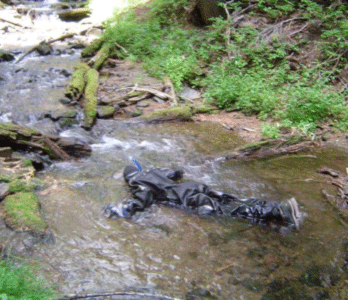 NPS
Beginning Conservation and Recovery Programs
In 1992, Crater Lake National Park began a long-term project to conserve and recover the remaining Bull Trout in Sun Creek. Because competition and hybridization with nonnative trout were the principal threats to the native species, conservation efforts focused on removing nonnative fish. Biologists installed small dams, or "fish barriers," in Sun Creek to prevent new Brook Trout from entering the stream and then used a combination of methods, including electrofishing, snorkeling, and the fish toxin antimycin-A, to remove the nonnatives while preserving Bull Trout.
Program Results

The approach proved successful. Bull Trout distribution in Sun Creek has expanded, and Bull Trout abundance in the stream, once as low as 200 fish, has increased roughly ten-fold.
Conservation and Recovery outside of Crater Lake National Park

Recently, the Bull Trout recovery program at Crater Lake has entered a new phase of work, collaborating with the State of Oregon to expand Sun Creek Bull Trout distribution downstream from the national park onto the adjacent Sun Pass State Forest. Biologists are using the same strategy that was successful farther upstream: first installing fish barriers to prevent Brook Trout invasion, then removing nonnative fish and monitoring subsequent Bull Trout recovery.
Long-term Conservation and Recovery Goal

Ultimately, biologists hope that Bull Trout will recolonize all of Sun Creek and begin to disperse to other historical habitats nearby. To achieve this goal, Crater Lake National Park is working with partner agencies to improve the connection between Sun Creek and the Upper Klamath Basin.
For More Information
Buktenica, M.W., D.K. Hering, S.F. Girdner, B.D. Mahoney, and B.D. Rosenlund. 2013. Eradication of Non-native Brook Trout using Electrofishing and Antimycin-A and the Response of a Remnant Bull Trout Population. North American Journal of Fisheries Management. 33:117–129.