Vehicle-Free Days on East Rim Drive

The park will host two vehicle-free days on East Rim Drive, September 20 and 27, 2014. Although East Rim Drive will be closed for these events, all other roads through the park will remain open to vehicular traffic. More »
Lost Creek Campground CLOSED Nights of 9/19 and 9/26

Lost Creek Campground will be CLOSED from 3:00 PM Friday, 9/19 until 5:00 PM Saturday, 9/20 because of the temporary road closure to vehicles on East Rim Drive. It will also be CLOSED from 3:00 PM Friday, 9/26 until 5:00 PM Saturday, 9/27.
Stage 1 Fire Restrictions in Effect

To ensure public safety and to provide the highest degree of protection to park resources, restrictions on campfires, smoking, and fireworks are in effect. More »
Artist-In-Residence Program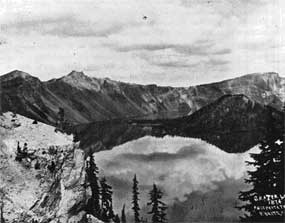 Southern Oregon Historical Society
The Crater Lake Science & Learning Center, in collaboration with the Crater Lake Natural History Association and the Friends of Crater Lake National Park, coordinates and delivers the Artist-in-Residence program.
The program provides an opportunity for two eligible artists to spend up to two weeks of the fall, and another two artists for up to two weeks in the winter, at Crater Lake National Park to pursue their particular art form while being surrounded by the awe-inspiring landscape of the park.
Artists are provided housing in the park to work on projects in one of the most beautiful places on Earth!
Writers, sculptors, photographers, painters, dancers, cinematographers, musicians, composers, and other visual and performing artists are invited to apply for this opportunity to draw upon the multifaceted qualities of the park for inspiration.
All of these artists translate the national park's purpose, as a place of pleasure and preservation, into creations that bring others enjoyment and a deeper understanding of the parks.
Eligibility and Selection Process
The Artists-In-Residence program at Crater Lake National Park offers both established and emerging writers, composers, and visual and performing artists the opportunity to participate.
The program will support one established artist and one emerging or student artist. All applicants must be 18 years of age or older.
College Credit may be available through Southern Oregon University.
A committee of park staff, park partners, and community arts leaders will review application materials. All projects must abide by National Park Service policies.
Download the 2014 APPLICATION and information here!
All applications for winter and fall residencies must be postmarked by 2/1/14.
Goals of the Artist-In-Residence
Capture the beauty of the park by encouraging the creation of high quality art that interprets the Crater Lake National Park experience.
Inspire visitors, students, and teachers, enhancing public enjoyment and understanding of Crater Lake National Park through artistic expressions.
Celebrate student and emerging artists! While the program is designed to appeal to artists at any stage, we encourage applications from interested college students including those enrolled in Crater Lake National Park's partner institutions, Southern Oregon University and Oregon Institute of Technology.
Selection Criteria
Artists will be evaluated against the following criteria:
Artistic quality and merit of the artist.

Importance of the Crater Lake National Park experience to the artist's work.

The historic and cultural relevance of the artist's work to Crater Lake National Park.

The artist's proposed plans to 'give back' to the park and community.

Proposals that feature efforts to artistically interpret science and the scientific discoveries of the park are encouraged.

Proposals that honor the Native American culture and tradition at the park are particularly encouraged.
Did You Know?

Crater Lake was formed when a massive eruption of Mount Mazama 7700 years ago caused the mountain to collapse, leaving a steaming caldera. Centuries of rain and snow filled the caldera creating Crater Lake.