Closed for Federal Holiday

Cowpens National Battlefield will be closed October 13, 2014 for Columbus Day. The park will reopen at 9:00 on October 14.
Volunteer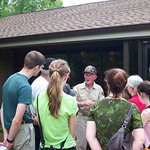 NPS photo
Become a Cowpens National Battlefield Volunteer!
Several volunteer opportunities exist at Cowpens National Battlefield. Volunteers work independently and alongside park employees in interpretive services, living history, maintenance projects and natural resources. These individuals play an important role providing services that support our park mission.


We look for dedicated, reliable individuals who are able to work a flexible schedule that may involve weekdays, weekends, morning, or afternoon.
One trailer pad for personal travel homes is available for resident volunteers who are required to work 32 hours per week for 6 weeks. The schedule and amount of time worked will be negotiated to benefit the park and the volunteer.
In addition, the park has a house with minimal dormitory amenities. Volunteers using the park house are required to work 40 hours/week for a minimum of 3 months and might share it with other volunteers.
The park provides uniform shirts and patches as well as training for most positions. For more information about the Cowpens National Battlefield volunteer program, please email Kathy McKay or Margo Blewett or call them at (864) 461-2828.
Current Volunteer Opportunities
Did You Know?

The Battle of Cowpens was named for a pasturing area for cattle - an open area where cattle were driven.