Cowpens National Battlefield is home to a federally listed threatened plant, Hexastylis naniflora (Dwarf flower heartleaf), which is endemic to the southern outer piedmont, as well as two "state concern" species. In addition to rare plants, the park offers a diverse variety of native flora.

On a walk around the battlefield, visitors can see one of the most historically important species, Arundinaria gigantea (Giant cane). Giant cane was formerly found in even greater quantities at the time of the battle of Cowpens, was one of the main sources of cattle forage in the area, and helped determine the boundaries of the battle.

When hiking on the nature trail take a moment to observe the Lycopodium digitatum (fan clubmoss) that grows on the forest floor, as well as the upper canopy for a view of Platanus occidentalis (Sycamore). In the winter, look for evergreen species like Ilex opaca (Holly), Juniperus virginiana (Eastern red-cedar), and Chimaphila maculata (Striped prince's pine).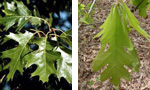 Twelve species of Quercus (Oak) can be found within the park. Note the many differences between their lobed leaves as you walk the battlefield loop or the nature trails.