Your Safety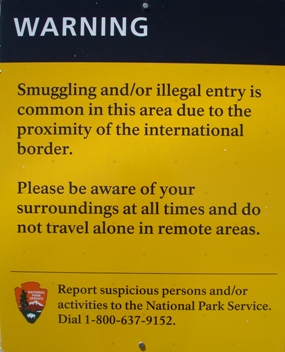 NPS Photo by Mark Wozniak
What Can You Do?
Be Aware, Be Safe
Remember that cell phone service is usually out of range within Memorial boundaries
Know where you are at all times, follow good safety procedures and use common sense when making decisions
Do not pick-up hitch hikers
Keep valuables, including spare change, out of sight and lock your vehicle
Avoid traveling on well-used but unofficial "trails"
Avoid hiking in areas of major border activity
People in distress may ask for food, water or other assistance. It is recommended that you do not make contact. Report the location of the distressed people to the visitor center, other park staff, or the Border Patrol
Report ANY suspicious behavior to park staff or Border Patrol. Please do not contact suspicious persons, contact a Ranger for assistance


Did You Know?

Within Coronado Cave is a beautiful range of formations, including stalactites, stalagmites, flowstones, and helictites. How fast these formations grow and their final size depends on the water supply, cave humidity, surface soils, bacteria, and composition of the limestone.