Visitor Center in Temporary Trailer in Parking Lot

While the visitor center building is under renovation this fall, visit our temporary offices in the parking lot. Information and select bookstore items are available daily, 8 am - 4 pm.
Weather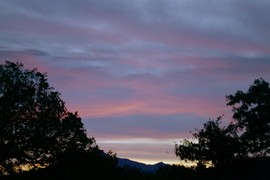 Weather and Climate


Summers are hot, with daytime temperatures in the 90s F (32-37 C) and low humidity in June and July. Winter temperatures often fall below freezing at night, with highs 40-60 F (4-15 C) in December and January. The summer rainy season is between late June and early September. The rain is often accompanied by severe thunder and lightning storms that can cause flash floods. Precipitation, including snow, averages about 20 inches (51 cm) per year.


Did You Know?

Coronado Cave, located in Coronado National Memorial, has numerous scalloped and tilted limestone bedding planes. Geologists examining these scallops estimate that at one time as much as 50,000 gallons of water per minute flowed through the cave from east to west.