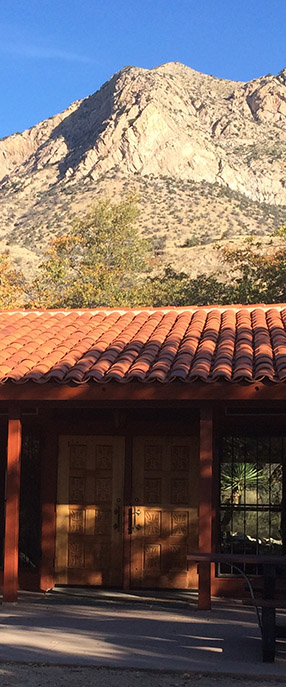 NPS Photo/Bentley
Coronado National Memorial Visitor Center
Open daily, year-round: 8:00 am to 4:00 pm.
Phone
520-366-5515
Closures
Closed in observance of Thanksgiving and Christmas day. Buses and RVs should park in the picnic area.
Exhibits
We are very excited to install brand new exhibit panels at the visitor center. We anticipate the new exhibits to be installed in the summer of 2015. In the meantime, we offer the park film, replica armor to try on, and temporary exhibits about the natural and cultural history of the park.
As a memorial - as opposed to a monument or historic site - there are no tangible artifacts or relics of Coronado's expedition within the park. The site was established to commemorated the Coronado Expedition and the lasting legacy of the first interaction between American Indians and Europeans in the American Southwest and northwest Mexico. There is a nine-minute video on the history of the expedition, as well as, a hands-on display of 16th century clothing and armor for visitors to try on. A 14-foot picture window provides visitors with a wonderful opportunity to view and photograph the flora and fauna in a relaxed atmosphere.
Bookstore
Coronado history books, local history guides, bird and animal guides, and maps of hiking trails in the Huachuca Mountains and the surrounding area are available through the
Western National Parks Association
bookstore in the visitor center. Gift items are also available including baskets woven by Tarahumara artisans, Native American wood flutes, Coronado National Memorial pins, stickers, magnets, and shirts, and much more.