Caving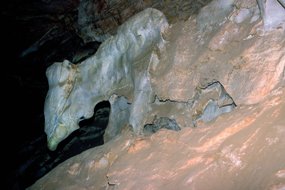 Coronado Cave is located 0.5 mile from the new Cave Trailhead up a moderately steep trail. You may access the new trailhead via the Cave Trail parking lot approx. .25 mile west of the visitor center. The cave is approx. 600 feet in length, 20 feet high and 70 feet wide with several crawl ways and passages, none of which is very extensive. Allow two hours for a leisurely, round trip hike and visit to the cave. Bring water, hiking shoes and at least one flashlight per person (no candles, flares or lanterns).
The cave has been called by several names including Montezuma's Treasure Vault and Geronimo's Cave. Legends claim that it was used by the Apaches as a hide-out when being pursued by the U.S. Army and in the late 1800's it was not uncommon to find arrowheads in the cave.
Checking the map

Hikers check their map at the Coronado Peak-Joe's Canyon trail junction Read More

Birds abound at Coronado National Memorial

A roadrunner stops for a moment just outside the visitor center. Read More

Montezuma Canyon Road

A winding dirt road leads up Montezuma Canyon to the pass Read More
Did You Know?

The Coati (Chulo in Spanish) is a member of the same family as the raccoon. Rare in the U.S., coatis can be found at Coronado National Memorial in southeastern Arizona. The coati is one of the few communal carnivores in the United States.