Hiking
Boardwalk
Length: 2.4 miles
Time: 1.5 hours
Elevated
Raised nearly 6 feet above the forest floor, the elevated portion of the boardwalk winds through a diverse old-growth forest. Use the self-guided brochure and listen for woodpeckers hammering away in the tall trees above.
Low
The low boardwalk passes through a primeval bald cypress and water tupelo forest. Cypress "knees" protrude from the forest floor creating a mystical aura. The knees, part of the tree's root system, are thought to help aerate the roots and to help anchor the cypress in the area's wet soil.
Dogs are allowed on all trails including the Boardwalk. Dogs must be kept on a leash and attended at all times. Please pick up after your pet.
Bluff Trail
Length: 0.7 miles
Time: 0.4 hours
Blaze Color: Blue
Bluff trail provides access to the elevated boardwalk and the campground. The "bluff" is a small rise on the edge of the floodplain. This trail passes through a young plantation forest of loblolly pines.
Weston Lake Loop Trail
Length: 4.6 miles
Time: 2.3 hours
Blaze Color: Yellow
Following a cypress-tupelo slough, this loop traverses an old-growth forest. As you walk along the northern bank of Cedar Creek, wildlife, such as river otters, can be spotted playing in the creek's dark waters.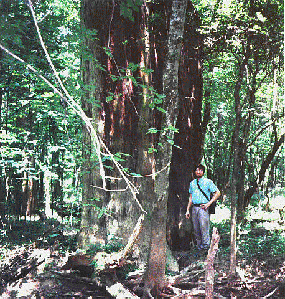 NPS Photo
Oakridge Trail
Length: 7.5 miles
Time: 3.8 hours
Blaze Color: Red
The Oakridge trail passes through a rich stretch of old-growth forest and is a good choice for those in search of a moderate hike. Along the way, the trail crosses a number of "guts" or small creeks that carry floodwaters into and out of the park. Large oaks abound!
King Snake Trail
Length: 11.1 miles
Time: 5.6 hours
Blaze Color: Orange
The King Snake Trail explores a remote part of Congaree. The trail offers excellent birdwatching, and hikers may spot deer, raccoons, opossums, and even bobcat tracks. Midway, the trail passes a large cypress-tupelo slough that seems to go on forever. On the other side of the trail, giant cherrybark oaks stand at near-record size.
River Trail- Length: 10.4 miles
Time: 5.2 hours
Blaze Color: White
This trail takes you to the Congaree River, the lifeblood of the area's great natural diversity. About ten times a year, floodwaters from the river cover the park. Because much of the forest along the River Trail was logged prior to the park's establishment, the vegetation here gives you a view of a forest in successional stages.

Did You Know?

In 2003, Congaree became the first and only national park in South Carolina. Until then, it was known as Congaree Swamp National Monument.