Trail Conditions

Trails have been adversely impacted by an active flood season and winter ice storms. They are littered with debris and many markers are missing. All hikers should use a compass and map when hiking in the park. A trail marking project is underway. More »
Paddling Conditions

Numerous portages exist along Cedar Creek. Please plan accordingly when preparing to paddle in the park and be sure you are prepared for a safe trip.
Guided Canoe Tours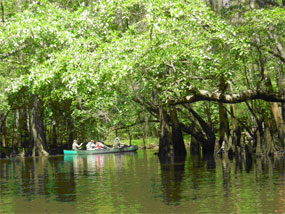 NPS Photo
Park rangers provide a limited number of free guided canoe tours along Cedar Creek each year. Please see Schedule of Events for the tour dates.
The only way to make a reservation is by calling 803-647-3980.

Tours are being offered on the following Saturdays:
November 23, 2013--9:00 am--FULL
December 14, 2013--12:00 pm--FULL
January 18, 2014--12:00 pm--FULL
February 8, 2014--12:00 pm--FULL
February 22, 2014--12:00 pm--FULL
May 3, 2014--9:00 am--FULL
May 24, 2014--9:00 am--FULL
June 7, 2014--9:00 am--FULL
June 28, 2014--9:00 am--CANCELLED
Paddlers experience this unique old-growth bottomland forest while paddling through large bald cypress and water tupelo trees draped with Spanish Moss. You will be surrounded with the sounds of songbirds, owls, and woodpeckers as you paddle through Congaree's Wilderness. White-tailed deer, otters, and raccoons may also be spotted along the banks of Cedar Creek.
The park provides canoes, life jackets and paddles for up to 16 participants per tour. Be sure to bring snacks, water, insect repellent, a change of clothes, and wear shoes that attach to your feet (no flip-flops).
Paddler Requirements
At least one "adult" (18+) must be in each boat
Children must be at least 6 yrs old
Participants must know how to swim

What to Bring on the Trip
Sun protection
Water: recommended 1 liter per paddler for short trips
Closed-toe shoes that can get wet; clothes that can get wet - cotton not recommended
Food: optional snack for short trip
Mosquito repellent

Trip Cancellation and Confirmation
All trips are subject to cancellation at the Congaree National Park ranger's discretion, e.g. due to bad weather. Park staff reserve the right to cancel a canoe tour for any reason.
Participants will be informed as soon as possible if there is a cancellation. No "rain checks." If you must cancel your reservation, please do so as soon as possible to allow us time to fill your vacancy. Guided canoes tours will be cancelled if the air temperature is 45 degrees F or below, if the water level on Cedar Creek is 10 ft or above, if wind speed is 30 mph or greater, or if the heat index exceeds 103 degrees.
Plan to spend 3 1/2-4 hours at the park for your canoe trip experience.
Did You Know?

Harry Hampton began the initial drive to save the Congaree back in the early 50's by using his column in "The State", South Carolina's main newspaper, entitled "Woods & Waters"?