Guided Canoe Tours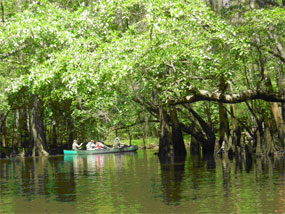 NPS Photo
Park rangers provide a limited number of free guided canoe tours along Cedar Creek each year. Please see Schedule of Events for the tour dates.
The only way to make a reservation is by calling
803-647-3980.

Tours are being offered on the following Saturdays:
November 23, 2013 9:00 am--FULL
December 14, 2013 12:00 pm
January 18, 2014 12:00 pm
February 8, 2014 12:00 pm
February 22, 2014 12:00 pm
Paddlers experience this unique old-growth bottomland forest while paddling through large bald cypress and water tupelo trees draped with Spanish Moss. You will be surrounded with the sounds of songbirds, owls, and woodpeckers as you paddle through Congaree's Wilderness. White-tailed deer, otters, and raccoons may also be spotted along the banks of Cedar Creek.
The park provides canoes, life jackets and paddles for up to 16 participants per tour. Be sure to bring snacks, water, insect repellent, a change of clothes, and wear shoes that attach to your feet (no flip-flops).
Children must be at least 6 years old to attend. All participants must be able to paddle and swim.
Guided canoes tours will be cancelled if the air temperature is 45 degrees F or below, if the water level on Cedar Creek is 10 ft or above, if wind speed is 30 mph or greater, or if the heat index exceeds 103 degrees.
Plan to spend 3 1/2-4 hours at the park for your canoe trip experience.

Park staff reserve the right to cancel a canoe tour for any reason.
Did You Know?

In 2003, Congaree became the first and only national park in South Carolina. Until then, it was known as Congaree Swamp National Monument.