Guided Canoe Tours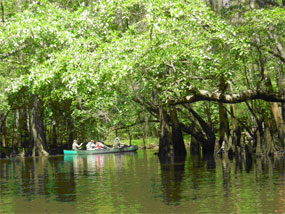 NPS Photo
Park rangers provide a limited number of free guided canoe tours along Cedar Creek each year. Tours are not given by request. Please see the list below for the tour dates.
All reservations must be made online. Tour reservations are open until tours are filled to capacity. Only available dates will show on Eventbrite when making the rThe park does not maintain tour waiting lists.


Winter 2015 Tours are being offered at 1:00 pm on the following dates:
February 21, February 28, March 7, March 14, March 21, March 28
Paddlers experience this unique old-growth bottomland forest while paddling through large bald cypress and water tupelo trees draped with Spanish Moss. You will be surrounded with the sounds of songbirds, owls, and woodpeckers as you paddle through Congaree's Wilderness. White-tailed deer, otters, and raccoons may also be spotted along the banks of Cedar Creek.
The park provides canoes, life jackets and paddles for up to 16 participants per tour. Be sure to bring snacks, water, insect repellent, a change of clothes, and wear shoes that attach to your feet (no flip-flops).
Paddler Requirements
At least one "adult" (18+) must be in each boat
Children must be at least 6 yrs old
Participants must know how to swim

What to Bring on the Trip
Sun protection
Water: recommended 1 liter per paddler for short trips
Closed-toe shoes that can get wet; clothes that can get wet - cotton not recommended
Food: optional snack for short trip
Mosquito repellent

Trip Cancellation and Confirmation
All trips are subject to cancellation at the Congaree National Park ranger's discretion, e.g. due to bad weather. Park staff reserve the right to cancel a canoe tour for any reason.
Participants will be informed as soon as possible if there is a cancellation. No "rain checks." If you must cancel your reservation, please do so as soon as possible to allow us time to fill your vacancy. Guided canoes tours will be cancelled if the air temperature is 45 degrees F or below, if the water level on Cedar Creek is 10 ft or above, if wind speed is 30 mph or greater, or if the heat index exceeds 103 degrees.
Plan to spend 3 1/2-4 hours at the park for your canoe trip experience.