Canoe Trail Information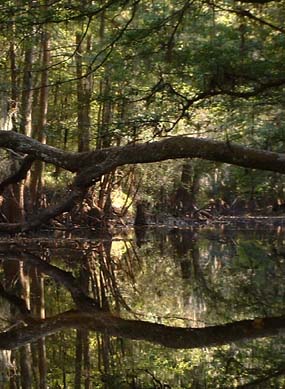 NPS Photo
Cedar Creek is part of a dynamic floodplain wilderness area with floods and weather contributing to tree downfalls and log jams. The creek is cleared when resources (such as availability of park staff and volunteers and favorable weather conditions) are available but the park can not make any guarantees that the canoe trail will be clear at all times. Park staff invites you to report your canoeing/kayaking experiences so we can pass on up-to-date conditions to other paddlers.
Changing water levels may make paddling difficult. Occasionally, floodwaters from the Congaree River cover the park with a sheet of fast-moving water. Paddling upstream and following the marked canoe trail may be challenging during flooding events. Water levels can fluctuate by more than 10 feet. Canoe trail markers may be underwater and the trail may be indistinguishable from the rest of the floodplain. When water levels are very low or after significant flooding occurs, fallen trees may impede smooth travel, forcing canoeists to portage.
Before paddling, it is advisable to call the visitor center (803-776-4396) to ask about current conditions.
Links
USGS Real-Time Water Data for Cedar Creek
USGS Real-Time Water Data for the Congaree River
Cedar Creek Water Level Chart- This water level chart describes what you may experience at various water levels on Cedar Creek.