Spring Trail Conditions

Trails have been adversely impacted by an active flood season and the recent ice storm. They are littered with debris which makes them very hard to navigate. Markers are also missing. All hikers should use a compass and map when hiking in the park. More »
Boardwalk Loop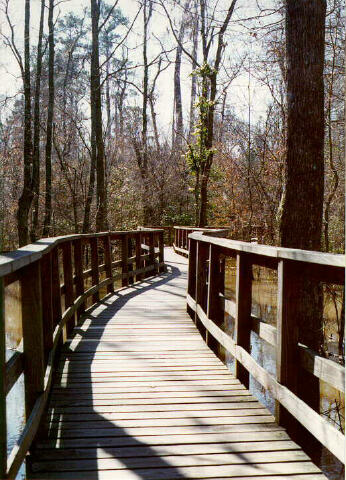 NPS Photo
This self-guiding walk is 2.4 miles long, and is an excellent introduction to the park.
Most of the park lies on the Congaree River floodplain, between 80 and 100 feet above sea level. During a flood in March of 1990, only the top railing was above the flood waters. The park is flooded an average of ten times per year. This provides nutrients from fertile soils that are deposited when flood waters recede. Floods usually occur after frequent and abundant rains to the north, but may also occur when water is released from upriver dams or after tropical storms or hurricanes. The replenished soil supports a great diversity of plant and animal life. The forest canopy stands high overhead, enhancing the illusion of perpetual twilight. Barred owls often call during daylight. In summer, a gentle rain is seldom felt except as a fine mist below the forest's canopy.
Changes made by Hurricane Hugo in September of 1989 are still evident. Congaree lost its national champion Shumard oak tree and a former champion overcup oak tree. A big tree survey completed in 1996 identified 4 national and 19 South Carolina state record trees within the park. More than 150 trees larger than feet in circumference were located.
Hugo's winds uprooted and twisted apart many big trees. The canopy was opened in numerous places allowing sunlight to reach the forest floor. It is thrilling to see the regeneration of this great forest.
Over 10,000 years ago, Weston Lake was a bend in the Congaree River, although now it is located two and a half miles North of the river's current location. This bend was cut off when the river changed course, forming an "oxbow lake." Still about 25 feet deep, this lake is a hub of activity within a thriving ecosystem. River otters, wood ducks, water snakes, turtles, and a variety of fish, birds, and insects are attracted to this vital area.

Did You Know?

The Harry Hampton Visitor Center is the first national park visitor center built in partnership with Army and Air Force National Guard civil engineering units, the South Carolina Richland County Delegation, Richland County and Columbia's River Alliance.