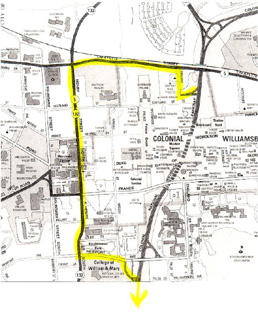 NPS Image
The Parkway has a tunnel under part of Colonial Williamsburg and regulations prohibit pedestrians or bicycles in the tunnel for safety reasons. To access the bicycle tunnel bypass from Yorktown, take the exit after the Parkway passes under Lafayette Street. At the "T" turn right onto England Street. Turn left onto Lafayette Street. Follow Lafayette Street to Henry Street and turn left again. Follow Henry Street until you reach Newport Avenue. Turn left and follow the signs to Jamestown via the Colonial Parkway. Turn right onto the Parkway.
There are two tour roads in Yorktown, the seven-mile Battlefield Tour Road, marked by red arrows, and the nine-mile Encampment Tour Road, marked by yellow arrows.
The Battlefield Tour Road begins at the Visitor Center parking lot. Both routes utilize other park roads and heavily-traveled state highways. (The Encampment Tour road has less traffic.) Motor vehicles may use all streets in Yorktown, except Main Street. Main Street closes to vehicular traffic Spring through Fall. On the Tobacco Road footbridge, bicyclists must dismount and walk across for safety reasons. Pick up maps of the tour roads and town from the Battlefield Visitor Center. Battlefield Tour Roads are open to pedestrians, bicycles and motor vehicles. Safety issues prohibit buses, motor homes or vehicles over 5-tons from using them. All state and local traffic regulations apply.