Visitor Center is OPEN 8 a.m. to 6 p.m. Daily

Alcove Nature Trail CLOSED for reconstruction until further notice.
Your Safety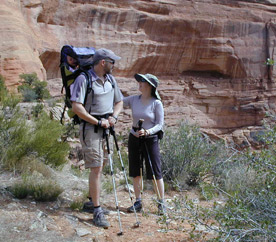 Colorado National Monument contains rugged and remote landscapes. Always be prepared when hiking by carrying a map, compass, extra water, food, first aid kit and warm clothing.
Bicyclists and motorists share the Rim Rock Drive. Please drive or bike cautiously. Bicyclists are required to ride single file at all times within the monument.
Use bicycle lights in the tunnels.
Watch your step and your children at overlooks, along canyon rims, and at steep dropoffs.
Watch where you put your feet and hands. You may be sharing the land with rattlesnakes and scorpions.
When hiking, carry a gallon of water per person per day. Use sunscreen and a hat. Wear sturdy footwear, a long sleeve shirt and long pants. Gnats (biting midges) can be a problem from May to August. Be sure to carry insect repellant.
Let someone know where you're going and when you expect to return.
From April to July, seasonal pools may exist in canyon bottoms. Please do not enter these pools. Sunscreens and lotions pollute these waters that are important to wildlife.
Avoid ridgetops and open ground during lightning storms.
Less than ¼-inch of rain can produce flash floods. Flash floods are caused by run-off from intense, localized thunderstorms that drop a large amount of rain over a short period of time. They are most common in July, August, and September, but can occur at any time of the year. Move to higher ground immediately.


Did You Know?
The common raven displays abilities to play and problem solve rare among animals. This member of the crow family is also very vocal, using a variety of sounds for communication. Perhaps because of these qualities, ravens have achieved a certain stature in both European and American Indian folklore.