Rim Rock Drive is OPEN - Visitor Center is OPEN 9 a.m. to 5 p.m.

Rim Rock Drive is OPEN Be on the lookout for Desert Bighorn Sheep along Rim Rock Drive. There also may be minor traffic delays near the East Entrance over the coming weeks. Watch for construction flaggers on the roadway.
Learning in the Monument
Amazing canyons, incredible desert life, and more await you and your students in this unique outdoor classroom. Study geology, ecology or cultural history on a ranger-guided field trip in the Monument or explore our curriculum materials to use in the field or in your classroom.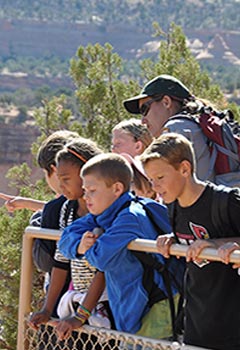 Features
Plan a Field Trip

Bring your students on a field trip to the Monument! Ranger-led programs are available for grades K-12.

Read More
---- query goes here ----