Plan Your Visit
Possible site closure or delay opening time Monday Jan. 26, 2015
Please call the site before visiting on Monday Jan. 26, 2015. The forecasted snow storm may cause a site closure or delay the site opening time. Call 301-320-1410.
Open daily with guided tours on the hour:
10:00 a.m., 11:00 a.m., 12 Noon, 1:00 p.m., 2:00 p.m., 3:00 p.m. and 4:00 p.m
Clara Barton National Historic Site is not well heated. The house has a front porch, but there is no other shelter while waiting for tours. Public restrooms, seasonal drinking water fountains and limited food services are available at adjacent Glen Echo Park.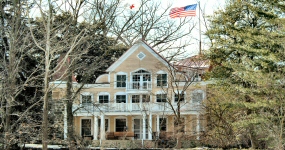 Clara Barton's Glen Echo home is a reflection of her dedication of serving the needs of others. You can view the virtual tour, but nothing compares to actually visiting the home. Guided tours blend the incredible stories of her courage during the Civil War to her achievements with the American Red Cross within the settings she worked and lived in between 1897 and 1912.
During extreme conditions affecting the Washington, D.C. region; power outages; storms or storm clean up operations, Clara Barton National Historic Site may experience temporary closures and guided tours may be canceled. The site may close for only part of a day, a full day or multiple days. Feel free to call 301-320-1410 to confirm site status before visiting.
Clara Barton National Historic Site is administered by the George Washington Memorial Parkway and while you are visiting in the area, you may wish to visit one of the nearby sites. http://www.nps.gov/gwmp/index.htm