Winter Hours Dec. 29, 2013 - March 22, 2014

Site open Wednesday - Sunday; closed Mon. and Tues. in effect until March 22, 2014
Plan Your Visit
During extreme conditions affecting the Washington, D.C. region; power outages; storms or storm clean up operations, Clara Barton National Historic Site may experience temporary closures and guided tours may be canceled. The site may close for only part of a day, a full day or multiple days. Feel free to call 301-320-1410 to confirm site status before visiting.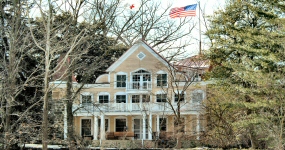 Clara Barton's Glen Echo home is a reflection of her dedication of serving the needs of others. You can view the virtual tour, but nothing compares to actually visiting the home. Guided tours blend the incredible stories of her courage during the Civil War to her achievements with the American Red Cross within the settings she worked and lived in between 1897 and 1912.
Clara Barton National Historic Site and the National Park Service office at Glen Echo Park announce new winter hours. Both will begin their winter hours of operation starting Sunday December 29, 2013 and will conclude Saturday March 22, 2014. Clara Barton National Historic Site and Glen Echo Park are scheduled to be open 10:00 a.m. to 4:00 p.m. daily Wednesdays through Sundays. Glen Echo Park Partnership and Glen Echo Park co-operators will not be affected by these new hours.
Between December 29, 2013 and March 22, 2014 closed Mondays and Tuesdays, open Wednesdays - Sundays.
House shown by guided tour only and tours start on the hour:
10:00 a.m., 11:00 a.m., 12 Noon, 1:00 p.m., 2:00 p.m., 3:00 p.m. and 4:00 p.m
Starting March 23, 2014 open daily all year-except closed on Federal Holidays between November and March. (Closed Veterans Day, Thanksgiving Day, December 25, January 1, Martin Luther King, Jr. Day and George Washington's Birthday/Presidents Day)
On Sunday March 23, 2014 there is a special program and the schedule for the day is as follows:
Guided tours at 10:00, 11:00, Noon and 1:00. No Tours at 2:00, 3:00 or 4:00 -At 2:00 a free presentation of "Clara Barton Red Cross Angel" by actress Mary Ann Jung - Reservations required, call 301-320-1410. Open House 3:00 - 4:30 (no reservations required to attend the open house)
Clara Barton National Historic Site is not air-conditioned nor well heated. The house has a front porch, but there is no other shelter while waiting for tours.
Public restrooms, seasonal drinking water fountains and limited food services are available at adjacent Glen Echo Park.
Only the first floor of the house is wheelchair accessible.
Eastern National Passport station and bookstore located inside the house and may be accessed as part of the house tour.
Groups of ten people or more need reservations.
Please call 301-320-1410 for more information or to schedule a reservation.
Collect the National Park Service Civil War to Civil Rights trading cards during your visit.
Free admission.


Did You Know?

Clara Barton is probably the most famous American nurse who was never a real nurse. She cared for wounded soldiers in the Civil War and as President of the American Red Cross she organized over 18 relief efforts, but she was a former school teacher and government clerk.