Plan Your Visit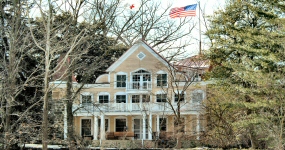 Clara Barton's Glen Echo, Maryland home was a place of service. It was her house, but she used it as headquarters, warehouse and living quarters for the American Red Cross.
Everything about the place conveyed Clara Barton's sense of duty, commitment and dedication to serving others.
House shown by guided tour only and tours start on the hour:
10:00 a.m., 11:00 a.m., 12 Noon, 1:00 p.m., 2:00 p.m., 3:00 p.m. and 4:00 p.m.
Clara Barton National Historic Site is not air-conditioned nor well heated. The house has a front porch, but there is no other shelter while waiting for tours.
Public restrooms, seasonal drinking water fountains and limited food services are available at adjacent Glen Echo Park.
Only the first floor of the house is wheelchair accessible.
Eastern National Passport station and bookstore located inside the house and may be accessed as part of the house tour.
Groups of ten people or more need reservations.
Please call 301-320-1410 for more information or to schedule a reservation.
Open daily all year-except closed on January 21, 2013, February 18, 2013, Thanksgiving Day, December 25, and January 1.
Collect the National Park Service Civil War to Civil Rights trading cards during your visit.
Free admission.
During extreme conditions affecting the Washington, D.C. region; power outages; storms or storm clean up operations, Clara Barton National Historic Site may experience temporary closures and guided tours may be canceled. The site may close for only part of a day, a full day or multiple days. Feel free to call 301-320-1410 to confirm site status before visiting.


Did You Know?

Visit a truly one-of-a-kind home from your computer.  Take the Clara Barton National Historic Site Virtual Tour.  Become an On-line Junior Ranger by completing fun and educational activities through the Clara Barton Interactive Experience. More...