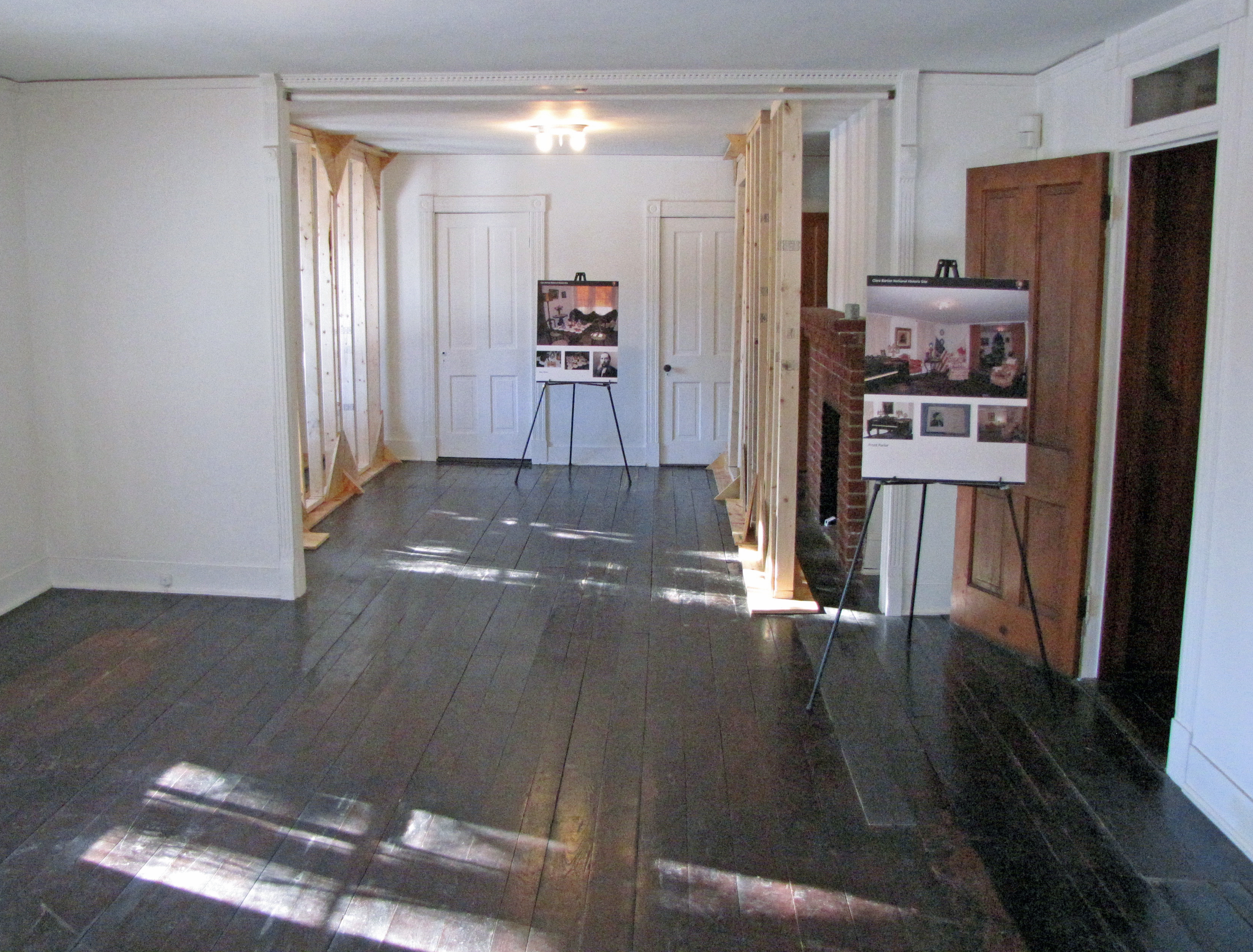 All furnishings have been removed from Clara Barton NHS. Morning sunlight streams into the empty front and back parlors of the home and structural supports for the upcoming rehabilitation work can be seen in the back parlor.
FOR IMMEDIATE RELEASE:February 12, 2015
Media Contact: Lee Werst, 703-289-2531
New Operating Hours at Clara Barton NHS
Glen Echo, Md. –Clara Barton National Historic Site will change its operating hours and public tour schedule beginning Feb. 17, 2015. The house will be open for public tours on weekends and for pre-arranged groups on Wednesdays and Thursdays. It will be closed all other times.
Tours will be offered for the general public on the following schedule:Saturdays at 11 a.m., noon, 2 p.m. and 3 p.m. and Sundays at 1 p.m., 2 p.m., 3 p.m. and 4 p.m.Tours for groups may be scheduled in advance for Wednesdays or Thursdays by calling 301­320­1410.
Reducing public hours by one day per week will allow the staff to prepare the house for a substantial rehabilitation project. The project will help preserve the historic house and museum collections by replacing the failing metal roof and improving the fire suppression system.
For safe keeping, the museum collection and historic furnishings were temporarily moved in Oct. 2014 to the National Park Service's Museum Resource Center in Landover, Md.
For updates on construction and additional information about Clara Barton and her work with the early American Red Cross please visit the website at www.nps.gov/clba or call 301­320­1410.
About the National Park Service. More than 20,000 National Park Service employees care for America's 405 national parks and work with communities across the nation to help preserve local history and create close-to-home recreational opportunities. Visit us at www.nps.gov, on Facebook www.facebook.com/nationalparkservice, Twitter www.twitter.com/natlparkservice, and YouTube www.youtube.com/nationalparkservice.