Womens Emergency Committee and the Lost Year

In the fall of 1958, the Women's Emergency Committee to Open Our Schools worked to reopen the city's high schools under the district's desegregation plan. Click
here
for more information about this organization and the Lost Year.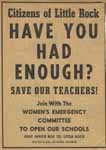 Women's Emergency Committee Roster
For 40 years the membership of the WEC remained secret. In 1998, former members compiled a list from individual membership cards and released it to the public as a tribute to all the women who joined. Click here to see a list of the members.
Please email us with updates to the list. Note that many of the women are listed by their married names, because that is how they listed themselves on the membership cards.