For Teachers
Little Rock Central High School National Historic Site is committed to preserving and interpreting the story of the 1957 desegregation crisis at historic Central High School as it relates to the larger story of Civil Rights history in America.
The National Park Service is proud to support teachers and students as they explore and discover our nation's heritage.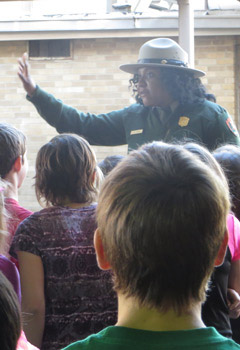 Educational Opportunities
The annual 2015 Civil Rights Teachers' Institute is being planned for July.Applications will be available after January 10, 2015 and will be accepted until the Institute is full. Review of applications will begin on February 1, 2015. Additional professional development opportunities provided by an Arkansas Department of Education assured provider are offered throughout the year and workshops can be requested by schools or education cooperatives for in-service training.
Please contact Park Ranger Jodi Morris at (501) 396-3010 or
e-mail us
if you have any questions or need assistance planning your field trip or professional development training.