Distance Learning Opportunities

Would you like to talk to a park ranger before you visit the site? Do you live out of town or out of state? Are you unable to visit the site? Then call (501.374.1957) or email a park ranger to arrange for a distance learning program for your school.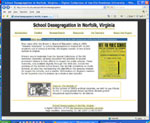 Learn more about another community that closed its schools to prevent integration.
Click here to view documents and resources about school desegregation in Norfolk, VA from Old Dominion University.
Virtual Tour of Central High

Click here to go to AETN's virtual tour of Central High School.

Mike Wallace Interviews

Click here to view 1957 interviews with Orval Faubus and Harry Ashmore. Read More