Directions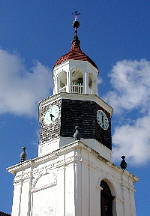 The United States Virgin Islands consist of St. Thomas, St. Croix, and St. John, all popular destinations in the Caribbean Sea. The islands are reached by several airlines and cruise ships. The St Croix airport is known as the Henry E. Rohlesen Airport. Car rental is available from the several major companies.
Driving directions: From the airport take the Melvin Evans Highway Route 66 east to Route 70 east into the historic town of Christiansted. The park is located at the bottom of King Street.


Did You Know?

The Danes reluctently purchased St. Croix from France in 1733. This was to make way for a new colony after the successful revolt of the enslaved on St. John a year earlier. While it was a peaceful transfer from France to Denmark, the enslaved that survived the insurrection were forced to build the infrastructure for the Danish colony in Christiansted.