Directions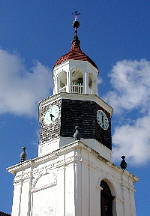 The United States Virgin Islands consist of St. Thomas, St. Croix, and St. John, all popular destinations in the Caribbean Sea. The islands are reached by several airlines and cruise ships. The St Croix airport is known as the Henry E. Rohlesen Airport. Car rental is available from the several major companies.
Driving directions: From the airport take the Melvin Evans Highway Route 66 east to Route 70 east into the historic town of Christiansted. The park is located at the bottom of King Street.


Did You Know?

From 1734 until 1803, Christiansted played a critical role in the captrure and sale of humans from Africa, their forced enslavement and labor in the New World, and the sale of precious natural resources, like sugar and timber, to Europe and the American Colonies.