Private Canal Boat Tours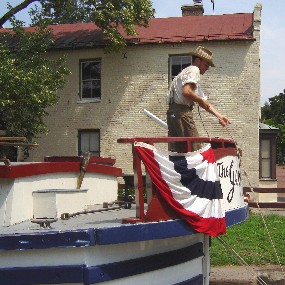 NPS Photo
Are you looking for a new and exciting way to celebrate that special event in your life? The Chesapeake and Ohio Canal offers private boat rides for birthday parties, retirement parties, weddings, etc..
Food and non-alcoholic beverages are allowed. Special request charter trips may be available. To place a specific need or request please call Great Falls Tavern Visitor Center.
Canal boat rentals for a one hour private charter trip is $770.00. Canal boat capacity is 60 people. Trips are subject to availability.
Private tours are not offered in place of regularly scheduled public rides.
Did You Know?

The Paw Paw Tunnel is 3,118 feet long and is lined with almost six million bricks. The 2/3 mile long tunnel saved the canal builders almost six miles of construction along the Paw Paw bends of the Potomac River. The project took twelve years to complete. The tunnel was only wide enough for single lane traffic. More...