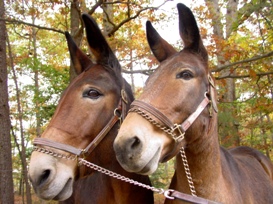 NPS Photo
Caring for Canal Mules
"You had to take care of the mules. And the same way with the harness. You had to grease it and oil it. Every time we'd come off a trick [half a day of pulling] we curried [brushed] them down. We fed 'em good. That's how I took interest."
-Lester Mose, Sr.
As we may treat seeing-eye dogs today, so the boatmen treated their mules: not only as workers, but also as pets and companions. Every mule had a name such as Belle, Diamond or Kate. The mule drivers, usually the children, would develop affection for and an awareness of the mules' idiosyncrasies.
Of course, the drivers always had to be attentive to the possibility of a mule kicking. As J. P. Mose recalls,
"I was kicked by a mule. He was a young mule; we hadn't had him very long, and I scared him…I'm telling you he caught me right in the hip. He knocked me clean across the towpath. I sort of knocked the ball out of the hip socket…He didn't mean to do it. I just scared him."
Not all mules, however, fared well on the canal. A few captains worked their mules too long, others whipped them to move their loaded, stationery 220-ton boat out of a lock as fast as possible; many mules became spavined, that is, they developed large, painful inflammations of leg bones and joints. And during the winter, when the captains stabled their mules at farms along the Potomac, not all the farmers in charge of the mules fed the animals properly. As Theodore Lizer recalls,
"[the mules] didn't know what an ear of corn was till we got them down here and fed them. They didn't eat nothing but straw and water. It would take a couple of weeks to get them back [properly] on their feet again."
Today, however, the National Park Service ensures the year-round good health and safety of the mules that pull the Charles F. Mercer. The C&O Canal stable of mules have life much easier than the mules of yesteryear: our mules pull at most a twenty-eight ton boat, two hours per day, four days a week, whereas their predecessors would pull a 140-ton boat eight hours a day, seven days a week.