NEW Overnight parking system

Before parking a vehicle overnight in any Canal Parking area, visitors must register their vehicle through the new online registration system. Print your reciept and place on your dashboard. If unable to print, please visit the nearest visitor center. More »
Water Pump Handles Temporarily Removed

Evitts Creek Hiker-Biker Campground water pump handle has been removed due to bad water samples. Handles will be reinstalled when good water samples are received.
Boat Tours at Great Falls

Due to low water levels in the Great Falls area, call the Great Falls Tavern Visitor Center (301-767-3714) in advance of your trip to confirm the mule-drawn boat tour schedule.
Parking Lot Closure

CSX is now beginning a phase of their bridge project that requires the closure of the Lock 74 parking lot for approximatly 18 months. Access to visitor parking near Lock 75 is now re-opened with a gravel parking lot at the site.
Ice Skating and Winter Activities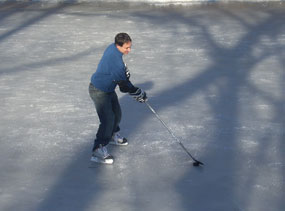 NPS Photo
Ice conditions at the Chesapeake and Ohio Canal National Historical Park are not monitored by park staff. Ice skating and sledding are not permitted in the widewater area of the park. In other areas of the park, ice skating and sledding are permitted at your own risk. In most watered areas of the park, the canal ranges in depth from 6 feet to 15 feet and the canal maintains a constant flow of water beneath the ice. Please use extreme caution.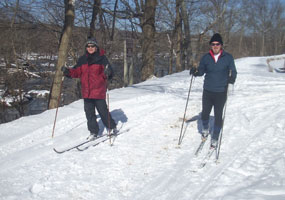 NPS Photo
The C&O Canal has 184.5 miles of towpath for visitors to enjoy during the winter. When the canal is covered in snow, it offers a beautiful winter landscape for hikers and cross-country skiers.
Did You Know?

Aqueducts are water filled bridges. Aqueducts carried the canal and boat traffic over major waterways, like rivers. Of the 11 aqueducts built along the canal, the Monocacy Aqueduct is the longest at 516 feet, its seven arches constructed mainly of stone quarried from nearby Sugarloaf Mountain. More...