Paw Paw Tunnel Towpath Open

The rockslide at Paw Paw Tunnel towpath has been cleared. The towpath is now open for hikers and bikers.
Georgetown Boat Rides Suspended

Boat rides at Georgetown are suspended until further notice. For a mule-drawn boat ride please contact Great Falls Tavern.
Ice Skating and Winter Activities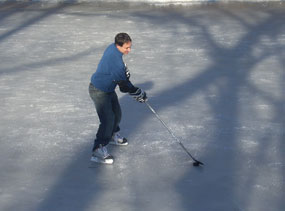 NPS Photo
Ice conditions at the Chesapeake and Ohio Canal National Historical Park are not monitored by park staff. Ice skating and sledding are not permitted in the widewater area of the park. In other areas of the park, ice skating and sledding are permitted at your own risk. In most watered areas of the park, the canal ranges in depth from 6 feet to 15 feet and the canal maintains a constant flow of water beneath the ice. Please use extreme caution.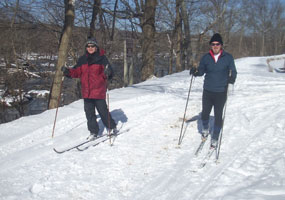 NPS Photo
The C&O Canal has 184.5 miles of towpath for visitors to enjoy during the winter. When the canal is covered in snow, it offers a beautiful winter landscape for hikers and cross-country skiers.
Did You Know?
Most freight boats on the C&O Canal were approximately 95 feet long and 14.5 feet wide while most locks were 100 feet long and 15 feet wide.  This left boat captains little margin for error as they steered their boats into the locks, trying to avoid the $5.00 fine for damaging lock masonry.