Towpath Reroute!

6/14/14- Towpath breach at MM 106, just below Dam #5. Towpath Detour in place (this detour does not leave park property). Please be aware of possible towpath hazards due to heavy rains.
Water Pump Handles Temporarily Removed

Purslane Run, Stickpile, Evitts Creek Hiker-Biker Campgrounds and Paw Paw Campground water pump handles have been removed due to bad water samples. Handles will be installed when good water samples are received.
Parking Lot Closure

CSX is now beginning a phase of their bridge project that requires the closure of the Lock 74 parking lot for approximatly 18 months. Access to visitor parking near Lock 75 is now re-opened with a gravel parking lot at the site.
Boat Rides at Great Falls

Regularly scheduled tour times for the mule-drawn canal boat at Great Falls have changed. In July and August 2014 tours will be offered Saturdays and Sundays at 11:00, 1:30 and 3:00. Please call the Visitor Center for more info: 301-767-3714. More »
Hiking and Biking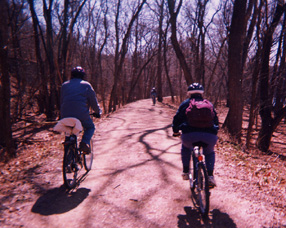 NPS Photo
Hiking and biking along the towpath are excellent ways to see the park. Hiker-Biker Campsites are located from Swain's Lock to Cumberland. Several park areas have interpretive trails and other hiking opportunities.

To view hiking maps and walking guides click here.
For bike rental information click here.
Bicycle riding is permitted only on the towpath. The surface of the towpath is for the most part an even hard-packed dirt trail. The towpath can be very muddy following heavy rain. Bicyclists should carry tools for repairs. All hikers and bikers must yield the right of way to horses.
Please follow these basic biking regulations:
15 MPH maximum speed limit on towpath
Ride single file
Stay to the right except when passing
Yield right of way to all pedestrians, horses and mules
Walk bikes over aqueducts
Sound devices (bell, horn, etc.) are required and should be sounded within 100' of approaching others
Helmets required in accordance with county ordinances. Children under the age of 16 required to wear helmets. Please note: Potable water may not be available at each hiker/biker campsite. Please plan to bring water purification tablets with you.
Hiking Tips:
· Bring water and food
· Wear sturdy footwear
· Be prepared for changing weather conditions
· Know your location
· Share the towpath with other users
· Pack out all trash. Trash bags are provided at dispensers
located throughout the park.
Did You Know?
Most freight boats on the C&O Canal were approximately 95 feet long and 14.5 feet wide while most locks were 100 feet long and 15 feet wide. This left boat captains little margin for error as they steered their boats into the locks, trying to avoid the $5.00 fine for damaging lock masonry.