NEW Overnight parking system

Before parking a vehicle overnight in any Canal Parking area, visitors must register their vehicle through the new online registration system. Print your reciept and place on your dashboard. If unable to print, please visit the nearest visitor center. More »
Water Pump Handles Temporarily Removed

Water pump handles at Bald Eagle Island, Jordan Junction and Big Woods Hiker Biker Campsites have been removed due to bad water samples. Handles will be reinstalled when good water samples are received.
Boat Tours at Great Falls

Due to low water levels in the Great Falls area, call the Great Falls Tavern Visitor Center (301-767-3714) in advance of your trip to confirm the mule-drawn boat tour schedule.
Parking Lot Closure

CSX is now beginning a phase of their bridge project that requires the closure of the Lock 74 parking lot for approximatly 18 months. Access to visitor parking near Lock 75 is now re-opened with a gravel parking lot at the site.
Dogs in the Park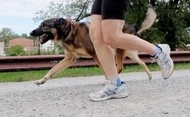 Dog lovers please keep other park users in mind when in the park. Small children may be afraid of dogs, others may be allergic. Please follow park regulations so that everyone can enjoy the park.
Pets must be on a leash no longer than 6 feet at all times. Loose or feral pets often disturb or kill wildlife or their newborns. Protective wildlife parents can be aggressive and could harm you or your pet. Keep wildlife and your pets safe by observing the leash law.
Dogs found harassing wildlife will be detained and appropriate action taken.
Dogs are not allowed on the Billy Goat Trail Section A, or on the overlook trail to Great Falls.
All dog waste must be picked up and disposed of outside of the park.
Did You Know?

The C&O Canal begins in Georgetown. The canal made extra money by selling water to numerous factories in Georgetown to power water driven machinery such as water wheels, etc. Many factories were located next to canal property. More...