Dogs in the Park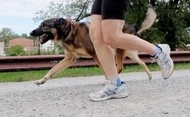 Dog lovers please keep other park users in mind when in the park. Small children may be afraid of dogs, others may be allergic. Please follow park regulations so that everyone can enjoy the park.
Pets must be on a leash no longer than 6 feet at all times. Loose or feral pets often disturb or kill wildlife or their newborns. Protective wildlife parents can be aggressive and could harm you or your pet. Keep wildlife and your pets safe by observing the leash law.
Dogs found harassing wildlife will be detained and appropriate action taken.
Dogs are not allowed on the Billy Goat Trail Section A, or on the overlook trail to Great Falls.
All dog waste must be picked up and disposed of outside of the park.
Did You Know?

There are several gold mines in the Great Falls area. The largest of these is the Maryland Mine located at the intersection of Falls Road and MacArthur Boulevard near Potomac, Maryland. Gold was first discovered here by a Union soldier from Pennsylvania during the Civil War.