Boat Rides at Great Falls

Due to low water levels in the Great Falls area, please call the Great Falls Tavern Visitor Center (301-767-3714) in advance of your trip to confirm the mule-drawn boat tour schedule.
Cell Phone Audio Program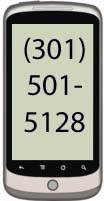 Your phone provides a fun way to learn more about the Chesapeake and Ohio Canal National Historical Park. You can listen to a park ranger give a short narration on various aspects of the Canal from stories about Canal life to the history of the places along the Canal. When visiting the C&O Canal you can listen to these narrations along any of the trails and at the visitor center.
Just look for the "Calling Canal Discoveries" signs, dial 301-501-5128, and enter the stop number. There is no additional charge to listen to these narratives. Please be aware that cell phone coverage at the C&O Canal can be spotty.
Here are some helpful instructions when you are listening to these audio tours:
Press 1 to Rewind
Press 2 to Pause/Play
Press 3 to Fast Forward
Press # to Stop
Press *0 to Leave Comments
Visit OnCell in the Android and iphone App stores to see more content, pictures and links or access the mobile page here.
You can also access the program from your own home! Find the stop numbers and themes below.
Topic

Stop #

Location (mile marker)

Mules!

76

· Mule pen at Lock 4 (0.54)

· Mule pen at Lock 20 (14.3)

Lives of Children

66

· Lock 4 (0.54)

· Canalboat Dock Lock20 (14.1)

· Cumberland Boat Model (184.1)

Georgetown

3

· Between Wisc. Ave. and 33 St. bridges (0.7)

Alexandria Aqueduct

4

· Aqueduct ruins (1.07)

Incline Plane

5

· Towpath (2.3)

Lockkeepers

56

· Lockhouse 8 (8.33)

Great Falls Overlook

13

· Olmsted Island Overlook (14)

Great Falls Tavern

14

· Great Falls Tavern Visitor Center (14.2)

Gold!

15

· Gold Mine Trail Entrance (14)

Death in the Mines

16

· Gold Mine Loop (14)

Rumors and Gossip

17

· Gold Mine Loop (14)

Floods

42

· Monocacy Aqueduct (42.19)

DaVinci

46

· Lock 20 (14.2)

Harvey Brant

98

· Lock 44 (99.3)

Cushwa

99

· Williamsport Visitor Center (99.7)

Conoco-cheague Aqueduct

100

· Conococheague Aqueduct( 99.8)

Shantytown

183

· Cumberland Boat Model (184.1)

Cumberland

184

· Cumberland Visitor Center (184.5)
Did You Know?

Transporting goods and people by canal dates back to antiquity. The lock gates used on the C&O Canal were an adaptation of a design by Leonardo DaVinci in the late 1400's. Until the advent of the railroad, water travel was far superior to land travel.