Water Pump Handles Temporarily Removed

Evitts Creek Hiker-Biker Campground water pump handle has been removed due to bad water samples. Handles will be reinstalled when good water samples are received.
Parking Lot Closure

CSX is now beginning a phase of their bridge project that requires the closure of the Lock 74 parking lot for approximatly 18 months. Access to visitor parking near Lock 75 is now re-opened with a gravel parking lot at the site.
Boat Rides at Great Falls

Regularly scheduled tour times for the mule-drawn canal boat at Great Falls have changed. In July and August 2014 tours will be offered Saturdays and Sundays at 11:00, 1:30 and 3:00. More »
Canal Quarters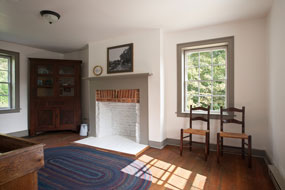 Photo courtesy of Roy Sewall.
Often people recreating along the C&O Canal towpath can't resist peeking into historic lock house structures in hopes of catching a glimpse of what life was like for those living and working on the canal long ago.
The Chesapeake and Ohio Canal National Historical Park invites visitors to learn more about life on the C&O Canal by spending the night in a historic lock house. Stretching from the outskirts of Georgetown in Washington D.C. to the Community of Four Locks, west of Williamsport in Western Maryland, six lock houses are available for stay along the towpath. Photos and stories, household tools and furnishings reminiscent of the canal's era convey the living conditions of a lock keeper's family as it may have been during the 1830s, at the time of the Civil War, the turn of the twentieth century, or the 1950s.
Visit the C&O Canal Trust website to learn more about the unique stories and features at each lock house or register to spend a night. Canal Quarters is a cooperative effort between the Chesapeake and Ohio Canal National Historical Park and the C&O Canal Trust, a not-for-profit friends group.
Canal Quartermasters are needed to help with this program. If you are interested in volunteering to care for one of these historic lock house structures please click here for more information.
Did You Know?
George Washington's dream of connecting the eastern states with the western frontier led to the creation of the Patowmack Company. Canals were built around unnavigable parts of the Potomac River for improved commerce. The C&O Canal inherited the right of way after the Patowmack Company's demise. More...