Paw Paw Tunnel Towpath Open

The rockslide at Paw Paw Tunnel towpath has been cleared. The towpath is now open for hikers and bikers.
Georgetown Boat Rides Suspended

Boat rides at Georgetown are suspended until further notice. For a mule-drawn boat ride please contact Great Falls Tavern.
Multimedia Presentations
The Chesapeake and Ohio Canal National Historical Park is an exciting and beautiful place to visit and explore. Whether you are interested in history, nature, or recreation, there is something for everyone at the C&O Canal. If you are unable to personally visit the canal, you can take a virtual tour of the park and learn about it's history from your home.
Click this link to be directed to canal podcasts courtesy of the C&O Canal Trust.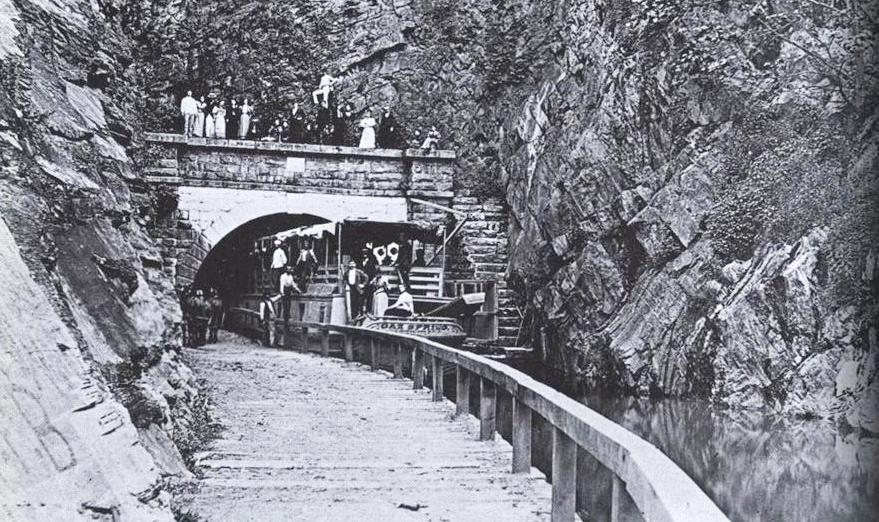 Paw Paw Tunnel Podcast
Come explore the Paw Paw Tunnel on the C&O Canal and see one of the greatest engineering feats of its time! Click here to view.
Ferry Hill Paint History Video
Listen as Aaron Wieland, Park Mason, provides revealing history about the types of paint used in Ferry Hill over the past 200 years.The voices you hear in the background are the women of the Pebble Project removing wallpaper for the building's rehabilitation in February 2012. Many layers and vibrant colors of paint were revealed in the process. We were lucky enough to have Aaron onsite to provide us with insight into the history of the changing layers of paint. Click here to view.
The transcript follows below:
"…plant oils, milk, they just went out and milked cows. Lime from the local lime kiln. Water. Pigments -they'd find the lady that dyed wool and just said, "Can I have some of your pigments?" And they'd add a little bit. They'd say "Oh, a little bit more or a touch of this" and the paint would be very very personalized according to the person that made it. It might have been the lady of the house who said, "I just see this color. This is the color that I want." And she would make it. And I think that's what gives all that paint in there such a beautiful character. It doesn't matter which generation is exposed-whether it's the yellow that's under the blue, or it's the green, or that beautiful burgundy in there. It's all just very magical to me."
Did You Know?

There are several gold mines in the Great Falls area.  The largest of these is the Maryland Mine located at the intersection of Falls Road and MacArthur Boulevard near Potomac, Maryland.  Gold was first discovered here by a Union soldier from Pennsylvania during the Civil War.