NEW Overnight parking system

Before parking a vehicle overnight in any Canal Parking area, visitors must register their vehicle through the new online registration system. Print your reciept and place on your dashboard. If unable to print, please visit the nearest visitor center. More »
Water Pump Handles Temporarily Removed

Evitts Creek Hiker-Biker Campground water pump handle has been removed due to bad water samples. Handles will be reinstalled when good water samples are received.
Boat Tours at Great Falls

Due to low water levels in the Great Falls area, call the Great Falls Tavern Visitor Center (301-767-3714) in advance of your trip to confirm the mule-drawn boat tour schedule.
Parking Lot Closure

CSX is now beginning a phase of their bridge project that requires the closure of the Lock 74 parking lot for approximatly 18 months. Access to visitor parking near Lock 75 is now re-opened with a gravel parking lot at the site.
News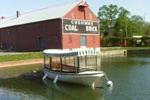 Stretching 184.5 miles from the hustle and bustle of Georgetown in Washington D.C. to the quiet mountains of Cumberland, Maryland, the C & O Canal requires constant attention and care from park staff and volunteers.
Featured news releases include the past two years of information, events and public notices relevant to the C & O Canal National Historical Park. For more information regarding news releases please contact the Park Headquarters Office at (301) 739-4200.


Did You Know?

There are several gold mines in the Great Falls area. The largest of these is the Maryland Mine located at the intersection of Falls Road and MacArthur Boulevard near Potomac, Maryland. Gold was first discovered here by a Union soldier from Pennsylvania during the Civil War.