Water Pump Handles Temporarily Removed

Evitts Creek Hiker-Biker Campground water pump handle has been removed due to bad water samples. Handles will be reinstalled when good water samples are received.
Parking Lot Closure

CSX is now beginning a phase of their bridge project that requires the closure of the Lock 74 parking lot for approximatly 18 months. Access to visitor parking near Lock 75 is now re-opened with a gravel parking lot at the site.
Boat Rides at Great Falls

Regularly scheduled tour times for the mule-drawn canal boat at Great Falls have changed. In July and August 2014 tours will be offered Saturdays and Sundays at 11:00, 1:30 and 3:00. More »
News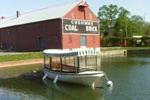 Stretching 184.5 miles from the hustle and bustle of Georgetown in Washington D.C. to the quiet mountains of Cumberland, Maryland, the C & O Canal requires constant attention and care from park staff and volunteers.
Featured news releases include the past two years of information, events and public notices relevant to the C & O Canal National Historical Park. For more information regarding news releases please contact the Park Headquarters Office at (301) 739-4200.


Did You Know?

The Paw Paw Tunnel is 3,118 feet long and is lined with almost six million bricks. The 2/3 mile long tunnel saved the canal builders almost six miles of construction along the Paw Paw bends of the Potomac River. The project took twelve years to complete. The tunnel was only wide enough for single lane traffic. More...