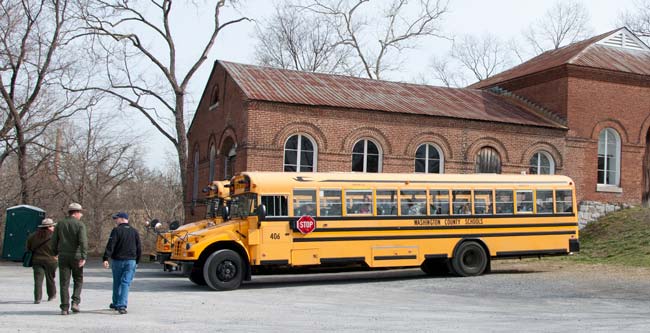 NPS image
The park, the C&O Canal Trust, the C&O Canal Association, and the National Park Foundation are proud to support a transportation scholarship program. The program ensures that all students have an opportunity to learn about and explore the C&O Canal National Historical Park.
Washington County Public School 4th grade teachers, the C&O Canal Association generously donated the cost of your buses to Williamsport for the 2014-2015 school year. You do not need to complete this transportation scholarship form request.
Download the Transportation Scholarship Application Form
Eligibility
Public, private, and charter schools.
Students may be pre-kindergarten through grade 12. University and colleges are not eligible.
Field trips must take place within the boundary of the C&O Canal National Historical Park and students must participate in curriculum-based (Canal Classrooms) programs or Bridging the Watershed (BTW) programs. Independent Teacher-led field trips are not eligible for funding.
Schools will be required to complete pre-visit activities and/or post-visit activities to receive funding.
Schools will be required to send a thank you letter, addressed to partner organizations (more details provided upon confirmation of funding).
Funding is prioritized for Title I schools.
Classes are eligible for reimbursement once per school year.
Deadlines
Request for reimbursement MUST be received at least two weeks prior to your field trip. Confirmation of your application status will be sent via email within one week of submitting the application request to the park.

Other information
An invoice from the bus company, the district transportation office, the principal's office, or the school board is required as part of the reimbursement request.
Reimbursement checks will be mailed within 30-days following the field trip and upon receiving the completed reimbursement request and invoice.
As a condition of funding, park staff and partners may photograph students in the park. Park staff will contact you in advance of the field trip and send a photo release form.