NEW Overnight parking system

Before parking a vehicle overnight in any Canal Parking area, visitors must register their vehicle through the new online registration system. Print your reciept and place on your dashboard. If unable to print, please visit the nearest visitor center. More »
Water Pump Handles Temporarily Removed

Water pump handles at Bald Eagle Island, Jordan Junction and Big Woods Hiker Biker Campsites have been removed due to bad water samples. Handles will be reinstalled when good water samples are received.
Boat Tours at Great Falls

Due to low water levels in the Great Falls area, call the Great Falls Tavern Visitor Center (301-767-3714) in advance of your trip to confirm the mule-drawn boat tour schedule.
Parking Lot Closure

CSX is now beginning a phase of their bridge project that requires the closure of the Lock 74 parking lot for approximatly 18 months. Access to visitor parking near Lock 75 is now re-opened with a gravel parking lot at the site.
Plan a Field Trip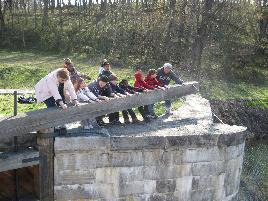 Education programs are offered throughout the park. To schedule a program please call the specified visitor center. All programs can be adapted to grades other than those listed.
For curriculum materials please click here.
General Information
Restrooms, bus parking, and picnic tables are provided at each location.

Students should be appropriately dressed for the weather.

Flat soled shoes are recommended for walking on uneven surfaces.

Food services are not available. Please pack lunches and drinking water.

Trash Free Park - Please plan to take your trash back to school for disposal.

Great Falls, 301-767-3714
Educational Fee Waivers are available for entrance into Great Falls. Click here to download the form.
Canal Boat Rides
Students experience a ride through a lock and down the canal while learning about the history and operation of the Cheasapeake and Ohio Canal from a park ranger in period costumed. Period games and music may be part of the program.
Grades K-12 1 hour $5 per person
Ask if a Meet the Mule program can be added before or after the boat ride.

Williamsport, 301-582-0813
Basin Tour
Students will learn about canal features as they explore the watered section of the canal. Students will have the opportunity to visit the Lock House and open/close the lock gates. This 1-mile roundtrip walk is on a flat surface.
Grade 4 1.25 hours Free
Life on a Canal Boat
Students will learn about life on a canal boat through various exhibits, short videos, and hands on exploration. This program takes place inside the historic Trolley Barn.
Grade 4 1 hour Free
Erosion - Teacher-led program
Materials for this program are provided. Students will learn how erosion affected and still changes the canal through hands on observation in small teams.
Grade 4 1 hour Free
Cumberland, 301-722-8226
Cumberland Visitor Center Tour
Students learn about C & O Canal history through exhibits, short videos, and hands-on exploration.
Grade 3-5 30 minutes Free
Boat Replica Tour of "The Cumberland"
Guided tour through a full-sized replica cargo boat. Students learn about canal boat life, and the many transportation routes surrounding Cumberland.
Grade 3-5 30 minutes Free
Paw Paw Tunnel Tour
A guided walk through the 3,118 foot long tunnel begins at the visitor parking area. Students learn about tunnel construction and challenges, and geology of the area.
Grade 3-5 1-1.5 hours Free
NOTE: Students must carry a flashlight and wear sturdy close-toed shoes.
Paw Paw Tunnel Trail
A steep, strenuous 2.5 mile hike over the tunnel. Students gain an appreciation for the scenery, plant life, and geology of the area.
Grade 3-5 1.5 hours Free
Bridging the Watershed
The following units area available at Cumberland:
"Alien Invaders" "Talking Trash" "Watershed Watchdogs"
For more information and to schedule this program please visit
www.fergusonfoundation.org/btw/btw_index.shtml
Did You Know?

The Paw Paw Tunnel is 3,118 feet long and is lined with almost six million bricks. The 2/3 mile long tunnel saved the canal builders almost six miles of construction along the Paw Paw bends of the Potomac River. The project took twelve years to complete. The tunnel was only wide enough for single lane traffic. More...