Assessment of Coastal Water Resources and Watershed Conditions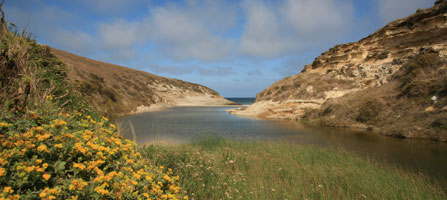 This report is a cooperative effort between the Marine Science Institute, University of California Santa Barbara, and the National Park Service, and provides a summary of the current status of aquatic resources (freshwater and marine) at Channel Islands National Park. The purpose of this report was to examine existing information pertaining to water quality, the condition of aquatic habitats and their biota, sources of point and non-point pollution in the region, avenues of transport of pollutants to Park waters, and threats to aquatic resources stemming from consumptive and non-consumptive uses of Park habitat. In addition, the report identifies current information gaps and makes recommendations for addressing them.
Note: This document requires Adobe Reader to view and is separated for easier downloads on slow connections.
Cover Page and Executive Summery (PDF, 240 Kb)
I. Park Description (PDF, 1.5 Mb)
II. Assessment of Water Quality (PDF, 2 Mb)
III. Other Concerns (PDF, 845 Kb)
References and Appendices (PDF, 727 Kb)
Full-sized document (PDF, 5 Mb)
Inventory & Monitoring

Learn about scientific research in the park at the Mediterranean Coast Network website. Read More