Preserving the Cherry Trees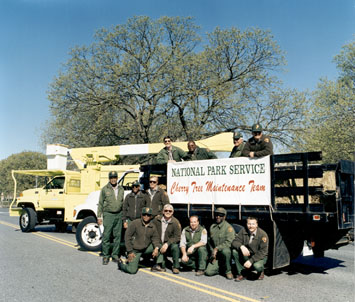 NPS
Q. How does the National Park Service take care of the cherry trees?
A. For the most part, the care of the Japanese flowering cherries has been entrusted to the members of the Tree Crew for National Mall and Memorial Parks. These individuals are professional arborists who possess technical competence through experience and related training to provide for the care of the trees. The sense of professionalism and dedication these individuals have displayed toward fulfilling their responsibilities is the single most important factor in the success and continued survival of the flowering cherry trees. The following are the most common maintenance tasks performed:
Pruning:
This is the single most important task that contributes to the overall health and appearance of the trees. Pruning is conducted 1-2 times each year. The most significant pruning is done from January through early March. Specifically:
Newly Planted Trees (3-6 years after planting): The training system used is the modified leader. At the time of selection the spacing between primary scaffold limbs is approximately 6-8 (-12) inches with permanent lateral branches at least two (2) feet out from the trunk. The size of the selected limbs at their point of attachment is approximately one-half (1/2) or less the diameter of the trunk or parent branch.
Mature Established Trees: The objective is to maintain and ensure the development of a sound scaffold branching system by selective thinning of branches and removal of dead, interfering, split, broken, diseased, and large branches with narrow angles of attachment, while keeping an attractive shape. No more than one-fourth (1/4) of the foliage is be removed during a single pruning operation and, upon completion, one-half (1/2) of the remaining foliage is on branches that originate in the lower two-thirds (2/3) of the tree. The use of chain saws or circular blade power saws is limited to branches that are two (2) inches in diameter or greater. Branches that are less than 2 inches in diameter are removed using hand saws or scissor type pruners or loppers. The use of anvil type pruners is prohibited. When removing branches, effort is to be made to cut back to a lateral one-third (1/3) the diameter of the branch being removed at its point of origin on the trunk or parent limb. The final cut is made sufficiently close to the trunk, running back across the limb at a forty-five (45) degree angle, without cutting into the bark branch ridge or branch collar or leaving a protruding stub.
Watering:
Using water trucks, watering is performed on 1-3 year old trees as needed. Established trees in large massings are irrigated with water from the Potomac River or Tidal Basin during periods of prolonged drought by operating large water pumps and irrigation pipe approximately 1/4 mile in length with sprinklers every 60 feet.
Wound Treatment:
Bark tracing is performed when the bark has been damaged and there is an open wound. When repairing bark wounds, only damaged or loose bark is removed to minimize the disturbance to live tissue. Wounding paints are no longer used as they have not been shown to be effective in preventing or reducing decay or preventing insect and/or disease infestations.
Insect and Disease Control:
Like all plants, the cherry trees have their insect and disease associates but there are none that are threatening them. The most common pest in is scale. The trees are monitored for insects and diseases under an Integrated Pest Management Program and only sprayed when populations reach predetermined threshold levels.
Bacterial canker (sunken or elliptical lesions on the trunks or branches that ooze gum from the wounds), also known as bacterial gummosis, is common but is rarely a serious problem on established trees. It is controlled through pruning and/or wound treatments (bark tracing).
Fertilization:
Fertilization is only conducted to correct or prevent nutrient deficiencies. A slow release fertilizer specifically formulated for trees is used and applied by soil injection at 200 pounds per square inch (psi), four to eight (4-8) inches below the soil surface, at a rate of two to three pounds (2-3 lbs) of actual nitrogen per 1000 square feet.
In 1998, on a very limited basis, endo and ecto mycorrhizal fungi, root bio-stimulants, and growth promoting bacteria were added to the fertilizer solution to help the cherry trees overcome stress due to low soil fertility, drought, temperature extremes, and visitor use impacts.
Aeration/Vertical Mulching:
This was initiated in 1995 on a very limited scale to try to mitigate the problems of soil compaction due to recurrent visitor use. When soils become compacted, virtually all of the favorable soil physical characteristics are adversely affected, specifically, structure, tilth, oxygen/carbon dioxide balance, soil microbiology, total and capillary spore space, water infiltration, and water holding capacity. Aeration and vertical mulching can help mitigate compaction; however, trees cannot be expected to recover and/or realize the benefits from remedial treatments if the recurrent activities and/or visitor use patterns continue.
This procedure consists of using a highly focused supersonic air stream (approximately 1,300 mph) to penetrate soil and fracture soil it away from tree roots in trenches that resemble the spokes on a bicycle wheel. The trenches are then backfilled with a mix of 1/3 sandy loam topsoil, 1/3 lightweight aggregate of expanded shale or slate, and 1/3 composted leaf mold by volume.
Replacement:
All cherry trees in the park are tagged, mapped, and inventoried. Trees that die due to old age, anaerobic soil conditions (low oxygen due to flooding from the Tidal Basin and Potomac River), impacts from recurrent visitor use, or insect and disease infestations are replaced with trees purchased from commercial nurseries during the next planting season (November 1 - November 30 and March 15- April 15, weather and soil conditions permitting).
Did You Know?
The first cherry trees were ceremonially planted by First Lady Helen Taft and Japanese Viscountess Iwa Chinda on March 27, 1912. 3,020 trees were planted throughout the modern National Mall and Memorial Parks as a gift from Yokohama, Japan to Washington, D.C. More...