Kin Bineola and Kin Ya' a Great Houses CLOSED

There is no public access.
Reservations required to attend equinox sunrise program

To attend the equinox sunrise program on Monday, September 22 call the visitor center at 505-786-7014. Program will be limited to 100 participants.
Wijiji Trail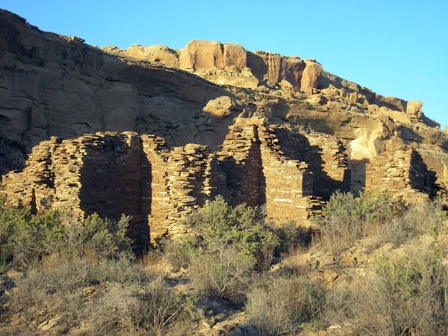 NPS Photo, Tom Lyttle
Distance:

Wijiji roundtrip from parking area - 3.0 miles (2 hours)

Wijiji roundtrip from campground - 3.2 miles (2 hours)
Trailheads: Wijiji parking area and campground
Elevation gain: Insignificant
This trail leads to Wijiji, a later-period Chacoan great house built around AD 1100. Wijiji differs from sites like Pueblo Bonito and Chetro Ketl in that it appears to have been built at once rather than several building periods. Evidence can be seen in the exceptional symmetry of the building plan and the uniform masonry. Typical Chacoan features such as enclosed plazas and great kivas are absent at Wijiji.
Did You Know?

Richard Wetherill came to Chaco Canyon in 1896 and worked with the American Museum of Natural History. He operated a ranch and trading post there until his death in 1910. To keep warm during the frigid Chaco winters, Richard burned low-grade coal from a mine he constructed.