Kin Bineola and Kin Ya' a Great Houses CLOSED

There is no public access.
Wijiji Trail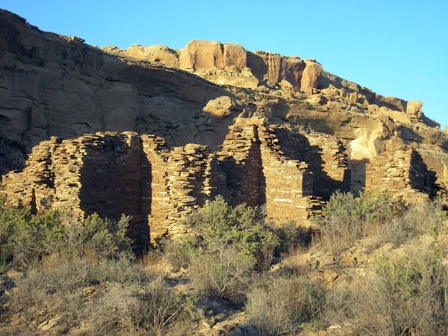 NPS Photo, Tom Lyttle
Distance:

Wijiji roundtrip from parking area - 3.0 miles (2 hours)

Wijiji roundtrip from campground - 3.2 miles (2 hours)
Trailheads: Wijiji parking area and campground
Elevation gain: Insignificant
This trail leads to Wijiji, a later-period Chacoan great house built around AD 1100. Wijiji differs from sites like Pueblo Bonito and Chetro Ketl in that it appears to have been built at once rather than several building periods. Evidence can be seen in the exceptional symmetry of the building plan and the uniform masonry. Typical Chacoan features such as enclosed plazas and great kivas are absent at Wijiji.
Did You Know?

Among their many accomplishments, the CCC camp at Chaco planted 80,000 trees and 80,000 shrubs at Chaco between 1939 and 1941. They also cut poles and surveyed 375 miles for telephone line, built 1018 small dikes to control erosion, and constructed 3.2 miles of entrance road. More...