Kin Bineola and Kin Ya' a Great Houses CLOSED

There is no public access.
Wijiji Trail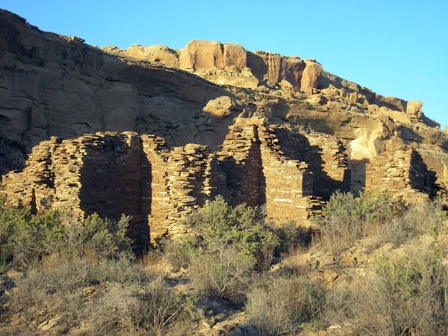 NPS Photo, Tom Lyttle
Distance:

Wijiji roundtrip from parking area - 3.0 miles (2 hours)

Wijiji roundtrip from campground - 3.2 miles (2 hours)
Trailheads: Wijiji parking area and campground
Elevation gain: Insignificant
This trail leads to Wijiji, a later-period Chacoan great house built around AD 1100. Wijiji differs from sites like Pueblo Bonito and Chetro Ketl in that it appears to have been built at once rather than several building periods. Evidence can be seen in the exceptional symmetry of the building plan and the uniform masonry. Typical Chacoan features such as enclosed plazas and great kivas are absent at Wijiji.
Did You Know?

Many buildings got the names you see at the park today during an exploration under Lieutenant James Simpson in 1849. Simpson recorded the names given to him by one of his guides, Carravahal. They have linguistic origins in Spanish, Navajo, and Hopi.