Kin Bineola and Kin Ya' a Great Houses CLOSED

There is no public access.
Reservations required to attend equinox sunrise program

To attend the equinox sunrise program on Monday, September 22 call the visitor center at 505-786-7014. Program will be limited to 100 participants.
Guided Tours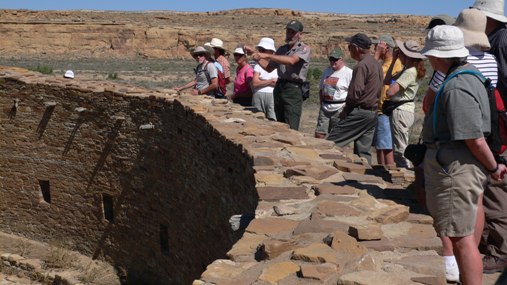 Tanya Ortega de Chamberlain
Guided walks of Pueblo Bonito are offered year-round. Additional programs are offered from April through October. Also during these months, Night Sky programs are offered two to three days a week. Campground evening programs may be offered throughout the summer. Check the bulletin boards at the Visitor Center and Campground for dates and times.


Did You Know?

On January 21, 1941, after a year of record rains, Threatening Rock fell and crushed about 60 rooms at Pueblo Bonito that had been excavated by Neil Judd in the 1920s. More...