Kin Bineola and Kin Ya' a Great Houses CLOSED

There is no public access.
Reservations required to attend equinox sunrise program

To attend the equinox sunrise program on Monday, September 22 call the visitor center at 505-786-7014. Program will be limited to 100 participants.
Getting Around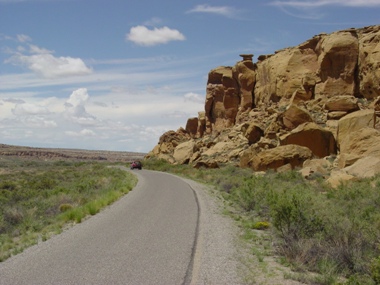 A 9-mile long paved loop drive provides driving access to five Chacoan sites in the heart of Chaco Canyon, including Pueblo Bonito, Chetro Ketl, and Casa Rinconada. Parking areas for vehicles and bicycles are located at each site, and trail guides are available. Most self-guided walking trails are about 1/4 mile roundtrip and take 45 minutes to one hour to complete. Pets are not permitted on these trails.
Biking the 9-mile paved loop is a great way to see the sites and experience the canyon. The Wijiji, Casa Chiquita, and Kin Klizhin trails may also be biked. Inquire at the visitor center for a free permit and directions.
Four moderately strenuous hiking trails provide access to more remote sites, petroglyphs, and mesa tops with panoramic vistas. All hikers must obtain a free hiking permit at the visitor center or at the trailheads. Pets are permitted on these trails when leashed.
All trails close at sunset.
Did You Know?

Among their many accomplishments, the CCC camp at Chaco planted 80,000 trees and 80,000 shrubs at Chaco between 1939 and 1941. They also cut poles and surveyed 375 miles for telephone line, built 1018 small dikes to control erosion, and constructed 3.2 miles of entrance road. More...