Kin Bineola and Kin Ya' a Great Houses CLOSED

There is no public access.
Reservations required to attend equinox sunrise program

To attend the equinox sunrise program on Monday, September 22 call the visitor center at 505-786-7014. Program will be limited to 100 participants.
Paleo-Indian Period
Paleo-Indian remains in the Chaco region are rare, due in part to the extensive and continuous re-occupation of the Canyon up to the present and to depositional and erosional patterns over millennia. Recent studies north and west of the canyon indicate a wide-spread and relatively continuous use of the San Juan Basin and greater Four Corners region during the late Pleistocene, from 8,000 to at least 10,000 years ago. People adapted to this period of climatic variability by developing a highly mobile hunting and gathering economy, a subsistence pattern that leaves little archaeological evidence. Unless these transitory sites contain diagnostic tools, particularly those used in specialized hunting/butchering activities, they are difficult to identify or date. No definitive dates or cultural remains from this period were discovered within the park during the initial surveys in the early 1970s, but recovered 'isolated diagnostic tools suggest a Paleo-Indian presence in the canyon.
Did You Know?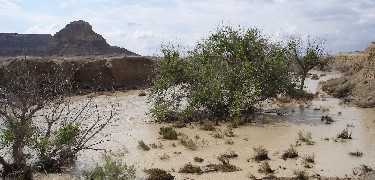 A 20 km segment of Chaco Wash courses through the park. Its flows are derived from summer thunderstorms and winter snowmelt within a 2,175 km2 watershed. The wash is presently incised into a steep-walled arroyo which has a well-developed floodplain and a small inner channel on the arroyo floor.