WNPA Bookstore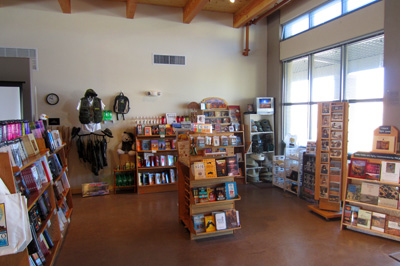 NPS Staff Photo
The Western National Parks Association (WNPA) is a nonprofit organization that operates bookstores in dozens of parks in the western United States. Their organization develops publications, funds research, and supports interpretive programs. Click here for the WNPA website.
The telephone number for Chaco's WNPA bookstore is (505) 786-7014 x265.
Chaco's bookstore carries a variety of literature for audiences including the general public, researchers and students, children, and teachers. Below are some suggestions for the most popular resources on Chaco. The complete publication list is available here.

Chaco: A Cultural Legacy by Michal Strutin, published by WNPA
$9.95
This book is a thorough introduction to Chaco with many color photographs. For six centuries enormous ancient buildings lay undisturbed in a remote corner of northwestern New Mexico. Now these "great houses" intrigue and inspire all who encounter them.

In Search of Chaco edited by David Grant Noble

$24.95

There is no definitive explanation of Chaco. This work features seventeen original essays, scores of photographs, maps, and site plans, and the perspectives of archaeologists, historians, and Native American community leaders. Key topics include the rise of the great houses, the organization of life at Chaco, the use of sacred geography and astronomy, indigenous knowledge about Chaco, and the place of Chaco in the wider world of archaeology.

People of Chaco: A Canyon and Its Culture by Kendrick Frazier
$17.95
Frazier combines scientific research and ethnographic data to give readers a sense of the lives of the real people occupying Chaco Canyon, from the Puebloans to historical figures in archaeology. This book is a strong compilation of the things we "know" about Chaco and a compelling starting point for considering the countless unknowns.
Evelyn Johnson, Manager
(505) 786-7014 x265
P.O. Box 220
Nageezi, NM
87037