Bluff Trail Closed on Lookout Mountain Battlefield

Bluff Trail will be closed effective February 10, 2014, and will remain closed until further notice. The section of trail that is closed is south of the Cravens House trail and north of Sunset Rock.
Things To Do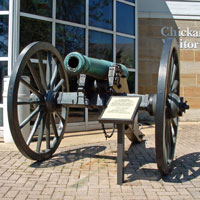 National Park Service
Chickamauga Battlefield features a 7 mile self-guiding auto tour, monuments, historical tablets, hiking trails and horse trails. The Chickamauga Battlefield Visitor Center contains exhibits and the Fuller Gun Collection which contains over 300 examples of military long arms.
For groups or individuals wishing to hike certain distances and learn along the way, several designated hiking trails are available. Please click on the desired trail map below.
Confederate Line Trail (6 Miles)
Lookout Mountain Battlefield contains monuments, historical tablets, hiking trails, scenic vistas, and the historic Cravens House. The Lookout Mountain Battlefield Visitor Center also houses the "Battle Above the Clouds" painting by James Walker.
Moccasin Bend National Archeological District currently has a 3 mile loop trail designed for hiking. The trailhead for the Blue Blazes Trail and parking area are located off Moccasin Bend Road in Chattanooga.

Did You Know?

James Garfield served as Major General William S. Rosecrans' Chief of Staff at Chickamauga. Four months after becoming President, Garfield was shot in the back by a disgruntled office seeker. Garfield died two months later on September 19, 1881, the anniversary of the Battle of Chickamauga.