Mountain Beautiful Trail Closure on Lookout Mountain

Chickamauga and Chattanooga National Military Park is advising the Mountain Beautiful Trail will be closed effective January 2, 2013, and will remain closed until further notice. It is located on the east side of Lookout Mountain, above the Hardy Trail.
Things To Do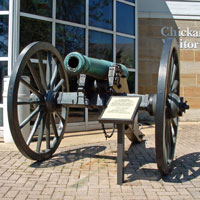 National Park Service
Chickamauga Battlefield features a 7 mile self-guiding auto tour, monuments, historical tablets, hiking trails and horse trails. The Chickamauga Battlefield Visitor Center contains exhibits and the Fuller Gun Collection which contains over 300 examples of military long arms.
For groups or individuals wishing to hike certain distances and learn along the way, several designated hiking trails are available. Please click on the desired trail map below.
Confederate Line Trail (6 Miles)
Lookout Mountain Battlefield contains monuments, historical tablets, hiking trails, scenic vistas, and the historic Cravens House. The Lookout Mountain Battlefield Visitor Center also houses the "Battle Above the Clouds" painting by James Walker.
Moccasin Bend National Archeological District currently has a 3 mile loop trail designed for hiking. The trailhead for the Blue Blazes Trail and parking area are located off Moccasin Bend Road in Chattanooga.

Did You Know?

Each year many officers and leaders of the United States Army and our allies visit Chickamauga and Chattanooga National Military Park to study leadership and tactics employed during the Civil War battles fought here in 1863.  These visits are called Staff Rides.