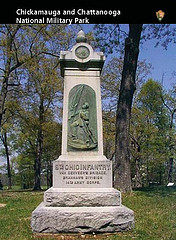 9th Ohio Infantry Regiment
German Freedom Fighters
More than 200,000 German immigrants served in the Union Army during the Civil War. Many enlisted to end slavery and earned a reputation for strict discipline and effectiveness. At Snodgrass Hill, the 9th Ohio, a German regiment from Cincinnati, held their position against repeated Confederate attacks until the end of the battle.