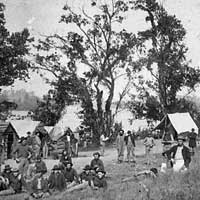 Library of Congress
In north Georgia and south Tennessee, Union and Confederate armies clashed during the fall of 1863 in some of the hardest fighting of the Civil War. The prize was Chattanooga, a key rail center and the gateway to the heart of the Confederacy.

Through a series of skillful marches, Union General William S. Rosecrans forced Southerners under General Braxton Bragg to withdraw from Middle Tennessee to Chattanooga. Bragg dug in, guarding the Tennessee River crossings northeast of the city. However, early in September, Federals crossed the Tennessee well below Chattanooga, again forcing Bragg to withdraw southward. Eluding his Federal pursuers, Bragg concentrated his forces at LaFayette, Georgia, (26 miles) south of Chattanooga. Here reinforcements swelled his ranks to more than 66,000 men. Twice he unsuccessfully tried to destroy segments of Rosecrans' army. Then, on September 18, 1863, hoping to wedge his troops between the Federals and Chattanooga, Bragg posted his army on the west bank of Chickamauga Creek.
Fighting began shortly after dawn on September 19. The armies fought desperately all day, but the Confederates eventually pushed the Federals back to the LaFayette Road. On September 20, Bragg again tried to drive between the Union force and Chattanooga, but failed to dislodge Rosecrans' line. Suddenly, a gap opened in the Federal ranks and Confederates smashed through, routing Rosecrans and half his army. General George H. Thomas took command of the remaining Federals and formed a new battleline on Snodgrass Hill. Here his men held their ground against repeated assaults. After dark, Thomas' forces withdrew from the field to the defenses of Chattanooga. The Confederates pursued and besieged the city. By placing artillery on the heights overlooking the river and blocking the roads and rail lines, the Southerners prevented Federal supplies from entering the city.