Bluff Trail Closed on Lookout Mountain Battlefield

Bluff Trail will be closed effective February 10, 2014, and will remain closed until further notice. The section of trail that is closed is south of the Cravens House trail and north of Sunset Rock.
Closures - Wilder Brigade Monument and Hwy 27 By-Pass Picnic Area

The interior of the Wilder Brigade Monument (Tour Stop #6) at Chickamauga Battlefield and the US Highway 27 Picnic Area will be closed from December 1, 2013, to March 15, 2014.
Welcome to Learning at Chickamauga and Chattanooga National Military Park
Are you a teacher interested in bringing your students to the park?  If so, there are several curriculum-based programs from which to choose. To find out more about these choices, please visit our "Plan a Field Trip" section. All program information and required forms are located there.
Also, if you would like a ranger to come to your classroom, we can do that too! All you need to do is email Park Ranger Chris Young at christopher_young@nps.gov or call him at 423-752-5213 x117.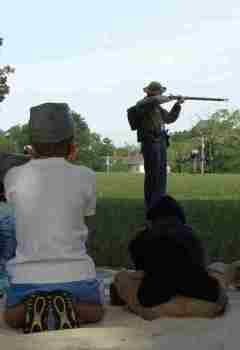 Features
Plan a Field Trip

Are you a teacher interested in bringing your students to the park? Park rangers provide curriculum-based programs to supplement your lessons.

Read More

Trading Cards for Kids

Discover more than 500 stories about America's journey from the Civil War to Civil Rights. View online or visit this park to collect your own copies.

Read More

Become a Junior Civil War Historian

Simply become a Junior Ranger at three Civil War parks in the Southeast to earn a patch and the title, Junior Civil War Historian.

Read More