02/16/2013

Location: 301 Johnson Ferry Road, Marietta GA 30068 | Map Time: 9:00 AM to 11:30 AM Fee Information: $3 Daily Park Pass or $25 Annual Park Pass Contact Name: Island Ford Visitor Contact Station Contact Phone Number: 678-538-1200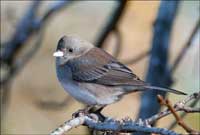 Cancellation Notice: The 9:00 a.m. and 10:30 a.m. walks have been cancelled. However we are still taking reservations for the 9:45 a.m. walk so call now!
The Great Backyard Bird Count (GBBC) is a four-day event held at various location across the United States and Canada. Bird enthusiasts of all ages and skill levels help to create an up-to-date, accurate picture of where birds are found.
Join us for a Great Backyard Bird Count in Atlanta's backyard sponsored by the Chattahoochee River National Recreation Area and Atlanta Audubon Society. We will discover the many fascinating birds that inhabit the wetlands at Johnson Ferry, one of metro Atlanta's best wildlife viewing areas.
An Atlanta Audubon naturalist will provide tips on how to identify bird species by sight and sound. They will also show how you can conduct your own 15-minute backyard bird count at home. Natuaralist-led walks will begin at the pavilion at 9:00 a.m., 9:45 a.m., and 10:30 a.m. We will submit our counts via the GBBC website to be included in the national tally.
This program is geared toward beginner birders but all skill levels are encouraged to attend. Participation is open to all people 7 years of age and older.
Dress for the weather; wear comfortable hiking shoes and dress in layers so that you can adjust to changes in the temperature and your activity level. Don't forget binoculars, notebook, and camera! Binoculars will be available to borrow.
Note: The $3 Daily Park Pass is not required for vehicles displaying a current Annual Park Pass or an America the Beautiful Pass!
Reservations are required for specific walk times; please call 678-538-1200 to make your reservation, space is limited!
Tags: