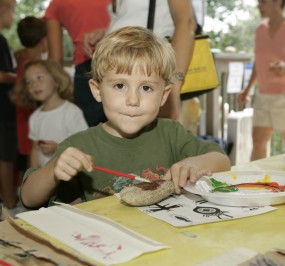 An NPS Photo.
The numbers this year nearly double the attendance rate from last year.
"We approached the marketing differently. About 55,000 fliers were delivered to the local schools, we had a ranger on a popular Atlanta morning show and there were several feature stories in local newspapers," Poe said. "We really got the word out this year."
Children also enjoyed storytelling, face painting, marshmallow roasting, and participated in an array of crafts and recreational activities. Visitors who completed one of the circuit hikes received a free festival T-shirt.
"The difference between our festival and other local festivals is that we have more hands on activities for children," said Poe.
Next year the park hopes to put on an even larger event. Poe said the goal is to continue to grow and expose more people to their backyard National Park.