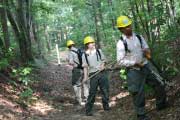 General Information
Employment Requirements
Corps members must be at least 15 years of age by June 1, 2015 and not over 19 years of age by July 24, 2015. They must also be United States citizens. A Georgia Youth Work Permit is required for all applicants under the age of 18 and must be submitted as part of their application packet.
Job Location
Corps members will report to work each day at the Island Ford unit located in the north end of Sandy Springs, Georgia. Corps members will be dismissed from the Island Ford unit at the end of the work day. Corps members are responsible for their own transportation to and from Island Ford.
Pay Rate
Corps members are paid $8.00 per hour, which is above the federal minimum wage. Corps members may take sick leave but will not be paid for the time absent.
Schedule
The standard work day is from 7:00 a.m. to 3:30 p.m., Monday through Friday. Crew members will receive one 15 minute break in the morning and a second 15 minute break in the afternoon. Additional breaks may be given dependent on working conditions. There will be a 30 minute lunch break. Corps members are required to pack a lunch daily.
Work Conditions
Corps members will encounter a variety of harmful flora and fauna during their workday; bees, snakes, ticks, mosquitoes, Poison Ivy, and Poison Oak are common. The work will be performed under hot and humid conditions.
---