Teacher - Ranger - Teacher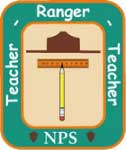 The Teacher-Ranger-Teacher (TRT) program is an extended professional development opportunity for educators from K -12 schools to learn about the resources and educational materials available through the National Park Service. Teachers participating in TRT will have the opportunity to engage in parks and park resources, participate in a webinar about lesson planning, develop at least one lesson to be used in their classroom or school, assist the park with an education project, and increase their understanding of place-based learning. Administration of the program, professional development hours, and graduate credit hours will be made available to participants through a cooperative agreement with the University of Colorado, Denver.
The emphasis of this program is to link national park units and teachers from schools with underserved student populations in urban and rural school districts. TRTs perform various tasks depending on their interests and the needs of the park that focus on education programs of the National Park Service. TRTs spend most of their time engaging with park education projects, learning about park resources, and developing lesson plans to use in their classrooms and in the park with students. Their experience will also include exposure to a variety of work performed in national park units by employees from many career fields. When TRTs return to the schools in the fall, they spend part of their classroom time presenting their TRT projects to their own students and to a wider education audience. These presentations can be connected to the National Park Service outreach during National Park Week in April or at other times during the school year.
Program Goals
Provide teachers with place-based learning experiences,
Provide access to the rich resources of the national parks for inclusion into classrooms and schools,
Provide teachers with new knowledge and teacher skills related to the resources and themes interpreted in the National Park Service, and
Provide parks with the expertise of teachers to inform and shape park education programs and services.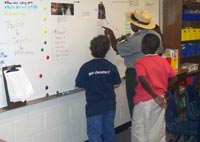 Teacher-Ranger-Teachers at the Chattahoochee
The park will hire several Teacher-Rangers for the summer of 2013. The Teacher-Rangers will work 30 hours per week for 6 weeks. The work week will consist of three 8-hour days and one 6-hour day with work on Saturdays required. The workday will begin and/or end at the park headquarters at 1978 Island Ford Parkway, Sandy Springs, Georgia. Occasionally the workday will begin and/or end at various park units. The Teacher-Range will be paid $3000 for the summer. The park will provide an official Teacher-Ranger uniform and any safety equipment that may be required to perform the job.
The duties of the Teacher- Rangers may include developing and presenting the following:
Junior Ranger activities
Summer camp activities
Educational podcast
Professional development
Family programs
America's Great Outdoors activities
Working with youth organizations
Tie Common Core Standards to programs
STEM Education materials/activities
Creating online connections to students
Networking with local schools/districts
Incorporate Technology into NPS programs
Healthy People/Healthy Parks projects
The Teacher-Rangers may be required to:
Maintain a positive and willing attitude
Walk on uneven terrain in various weather conditions
Learn about the natural, cultural, and historic resources of the park.
Maintain a daily log of your activities to be turned in your final day.
Participate in occasional park-wide programs.
Learn how to use the park phone system and set building alarms.
Interact with park visitors about rules and regulations pertaining to life jacket (PFD) use, pets in the park, bicycle use, etc.
Maintain a valid driver's license and drive park automobiles, trucks, or vans
Participate in on-site training.
During the school year, the Teacher-Rangers will bring national parks into the classroom by developing and presenting curriculum-based lessons that draw on their summer experience in the park. In April, during National Park Week, Teacher-Rangers wear their TRT uniform to school, discuss their summer as a park ranger, and engage students and other teachers in activities that relate to America's national parks.
How to Apply
If you have any questions about the program at the park please contact Marjorie Thomas, Park Education Coordinator by e-mail at e-mail us or by phone at 678-538-1243. To apply for an exciting summer as a Teacher-Range at the park please download and complete the application (fillable pdf). Submit your completed application with the attached principal approval letter signed, letter of support from a colleague, and a resume to the park.
By e-mail:
e-mail us
By FAX:
770-399-8087
By Mail:
Chattahoochee River NRA
Attn. Teacher-Ranger-Teacher
1978 Island Ford Parkway
Sandy Springs, GA 30350
Remember, the application deadline is March 1, 2013!