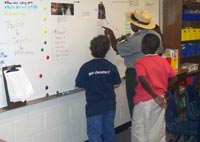 Teacher-Ranger-Teachers at the Chattahoochee
The park will hire several Teacher-Rangers for the summer of 2013. The Teacher-Rangers will work 30 hours per week for 6 weeks. The work week will consist of three 8-hour days and one 6-hour day with work on Saturdays required. The workday will begin and/or end at the park headquarters at 1978 Island Ford Parkway, Sandy Springs, Georgia. Occasionally the workday will begin and/or end at various park units. The Teacher-Range will be paid $3000 for the summer. The park will provide an official Teacher-Ranger uniform and any safety equipment that may be required to perform the job.
The duties of the Teacher- Rangers may include developing and presenting the following:
Junior Ranger activities
Summer camp activities
Educational podcast
Professional development
Family programs
America's Great Outdoors activities
Working with youth organizations
Tie Common Core Standards to programs
STEM Education materials/activities
Creating online connections to students
Networking with local schools/districts
Incorporate Technology into NPS programs
Healthy People/Healthy Parks projects
The Teacher-Rangers may be required to:
Maintain a positive and willing attitude
Walk on uneven terrain in various weather conditions
Learn about the natural, cultural, and historic resources of the park.
Maintain a daily log of your activities to be turned in your final day.
Participate in occasional park-wide programs.
Learn how to use the park phone system and set building alarms.
Interact with park visitors about rules and regulations pertaining to life jacket (PFD) use, pets in the park, bicycle use, etc.
Maintain a valid driver's license and drive park automobiles, trucks, or vans
Participate in on-site training.
During the school year, the Teacher-Rangers will bring national parks into the classroom by developing and presenting curriculum-based lessons that draw on their summer experience in the park. In April, during National Park Week, Teacher-Rangers wear their TRT uniform to school, discuss their summer as a park ranger, and engage students and other teachers in activities that relate to America's national parks.