Rising River Waters Can Kill!

Watch for rapidly rising river levels on the Chattahoochee River and its tributaries. Water released from dams and heavy rain can turn a day on the river into a tragedy! More »
Call for Water Release Schedule

With colder temperatures you can expect longer and more frequent water releases. For water release schedule info, call 1-855-DAM-FLOW (1-855-326-3569) for Buford Dam and 404-329-1455 for Morgan Falls Dam. Save numbers to your cell! More »
Professional Development
Hey teachers, spend the summer working as a Teacher-Ranger alongside the park rangers at Chattahoochee River National Recreation Area. In April, during National Park Week, you'll wear your Teacher-Ranger uniform to school, discuss your summer at the park, and engage students and other teachers in activities that relate to the park.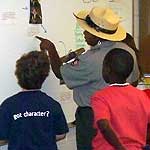 Teacher-Ranger-Teacher Program
Learn More
Shoulder-to-shoulder with private and public school teachers, nature center instructors, resources agency educators, youth organization leaders, and all interested volunteers we experiment with activities for use in a classroom or in the field. We will discuss educational methods, tools, and resources that will be of value to any adult wishing to learn to teach about our environment.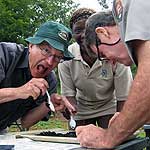 Teacher Workshops
Learn More