Phone System Problems

We are currently experiencing problems with our automated phone system. For general information or to speak to someone in the visitor center, please dial 915-532-7273, extension 113, between 10 am and 5 pm. We apologize for any inconvenience.
Problemas Telefónicos

Actualmente existen problemas con el sistema telefónico. Para información general o para comunicarse con el centro de visitantes, marque 915-532-7273, extensión 113 entre las horas de 10 am y 5 pm. Disculpe la molestia.
Construction Activity Near E Paisano Drive and S San Marcial Street

If entering the park from E Paisano Drive and S Marcial Street please be extra cautious. Pay close attention to the temporary road signs during the ongoing construction activity there.
Construcción por las Calles San Marcial y Paisano

Al dirigirse hacia el parque desde el lado de las calles Paisano y San Marcial, tenga mucho cuidado. Preste atención a la señales temporales de construcción mientras realizan esa obra.
Alcohol Ban for Visitor Safety

From June 1 through August 31, the consumption or possession of alcoholic beverages without a permit is prohibited. During Music Under the Stars concerts, alcohol may be purchased within the memorial boundary. More »
Prohibición del Alcohol por Seguridad de los Visitantes

Del 1 de junio hasta el 31 de agosto, se prohibe tener y consumir bebidas alcohólicas. Durante los conciertos de Música Alfresco, se permite tomar alcohol de las ventas autorizadas dentro del parque solamente.
Indoor Activities (Actividades Interiores)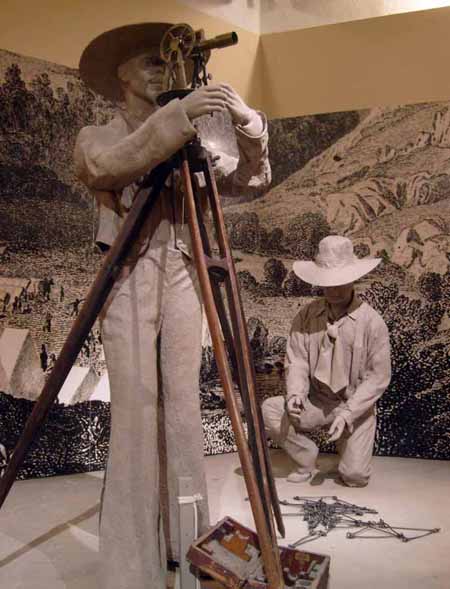 NPS
The Memorial offers a number of activities to participate in while visiting the park. Self-paced activities include viewing the History Museum, and visiting the three gallery spaces.
Scheduled programs include Junior Ranger Crafts and the Junior Ranger Program.
Be sure to also check out the Calendar of Events to find out what's going on in the Memorial's theater nightly.
El Memorial Chamizal tiene varíos actividades cuando visitan el parque. El Museo Historico y tres galerias.
Programas incluye el Junior Ranger Crafts y Programa Junior Ranger.
Tambien va el Almanace o Calendario de Eventos del Teatro.
Did You Know?

The Mexican flag is flown at Chamizal National Memorial out of respect for the sentiments that made the Chamizal Convention of 1963 a reality. The United States flag will always be on the left as you face the Memorial. More...