New Hours!

Beginning October 1, the grounds of the memorial will be open to the public from 7 a.m. to 10 p.m. This applies to all foot traffic and vehicles. For questions, call (915) 532-7273.
¡Horario Nuevo!

A partir del 1ero de octubre, se abren los terrenos del parque desde las 7 a.m. hasta las 10 p.m. Esto vale para el tráfico peatonal igual al de vehículos. Si tiene preguntas, llame al (915) 532-7273.
Phone System Problems

We are currently experiencing problems with our automated phone system. For general information or to speak to someone in the visitor center, please dial 915-532-7273, extension 113, between 10 am and 5 pm. We apologize for any inconvenience.
Problemas Telefónicos

Actualmente existen problemas con el sistema telefónico. Para información general o para comunicarse con el centro de visitantes, marque 915-532-7273, extensión 113 entre las horas de 10 am y 5 pm. Disculpe la molestia.
Indoor Activities (Actividades Interiores)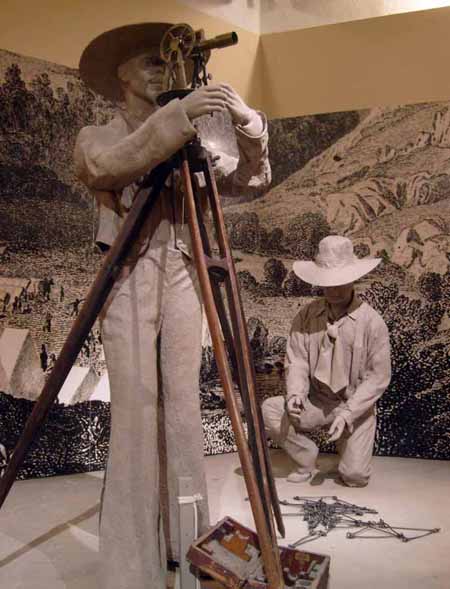 NPS
The Memorial offers a number of activities to participate in while visiting the park. Self-paced activities include viewing the History Museum, and visiting the three gallery spaces.
Scheduled programs include Junior Ranger Crafts and the Junior Ranger Program.
Be sure to also check out the Calendar of Events to find out what's going on in the Memorial's theater nightly.
El Memorial Chamizal tiene varíos actividades cuando visitan el parque. El Museo Historico y tres galerias.
Programas incluye el Junior Ranger Crafts y Programa Junior Ranger.
Tambien va el Almanace o Calendario de Eventos del Teatro.
Did You Know?
The land that Chamizal sits on belonged to Mexico until the 1960s. You can walk along the historic US-Mexico border when you visit the memorial. More...