Alcohol Ban for Visitor Safety

From June 1 through August 31, the consumption or possession of alcoholic beverages without a permit is prohibited. During Music Under the Stars concerts, alcohol may be purchased within the memorial boundary. More »
Fees & Reservations (Cobros y Reservaciones)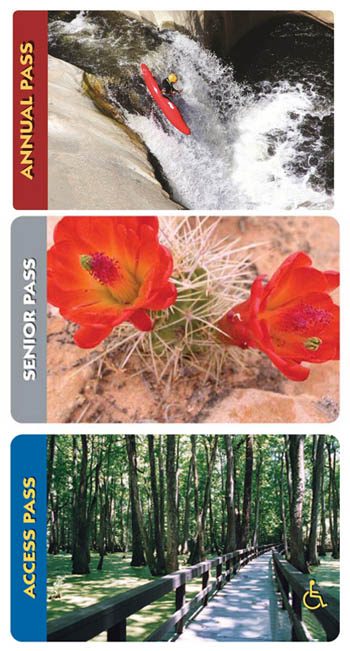 There is no entrance fee for Chamizal National Memorial. However, there may be fees associated with theater performances and other permits.
No se cobra la entrada a El Chamizal pero puede haber cobros asociados con las funciones de teatro y otros permisos.
The National Parks and Federal Recreational Lands Pass
To serve our local community, passes are available for sale at Chamizal National Memorial during visitor center hours. The Annual Pass, the Senior Pass, the Access Pass, and the new Annual Military Pass are offered to assist in your visits to your public lands. Visit the USGS website for more pass details.

Los Parques Nacionales y Tierras Federales Pase
Para servir nuestra communidad, los pases estan en venta en el Chamizal National Memorial durante las horas que esta abierto el centro visitantes. El Pase Anual, el Pase por Personas Mayores, el Pase de Aceso, y Pase Militario Anual estan en oferta para ayudar en visita a las tierras publicas. Visitan USGS por informacion.
To assist our international visitors, we provide pass information in other languages. Use the links below.
SPECIAL USE PERMITS

Chamizal Theater
The theater at Chamizal National Memorial is usually booked up to one year in advance. Booking requests are reviewed twice a year.
Forms available April 1st are for January through June of the following calendar year. These forms must be returned by May 15. Confirmations are mailed in late August and early September.
Forms available November 1st are for July through December of the following year. These forms must be returned by December 15. Confirmations are mailed in late February and early March.
For example: Ballet performance scheduled for June 2013. Forms would be available April 1, 2012 and must be returned by May 15, 2012. You would receive a confirmation in August or September of 2012.
All forms must be returned by mail and include a non-refundable $50.00 processing fee and a completed cultural justification questionnaire (included in the booking packet) explaining how the proposed event corresponds to the Memorial's mission.
Note: the cultural justification questionnaire is required for theater applicants.
Upon selection, an additional $50.00 will be charged for the Special Use Permit. Any overtime charges or damage will be billed to the permit holder under the Cost Recovery Program. Booking packets and forms may be obtained here.
PERMISOS PARA USOS ESPECIALES
Teatro en el Chamizal
Se aceptan los pedidos para reservar el lugar durante todo el año, con especial énfasis en los dos siguientes períodos de reservaciones.
1 de abril - Se aceptan solicitudes para el período de enero a junio del siguiente año civil. Para una primera consideración, los formularios deben devolverse antes del 15 de mayo. La selección y las confirmaciones se terminan de hacer para septiembre.
1 de noviembre - Se aceptan solicitudes para el período de julio a diciembre del siguiente año civil. Para una primera consideración, los formularios deben devolverse antes del 15 de diciembre. La selección y las confirmaciones se terminan de hacer para marzo.
Todos los formularios deben devolverse con el pago de una tarifa administrativa de $50.00, no reembolsable y una justificación que explique cómo el evento propuesto apoya la misión del monumento. El monumento ofrece talleres gratuitos de ayuda a potenciales usuarios del teatro para la redacción y el envío de las solicitudes. Los solicitantes deben enviar un formulario y pagar una tarifa administrativa por cada evento independiente para el que deseen hacer reservaciones.
Despues de ser seleccionado $50.00 seran cobrados por el Permiso de Uso Especial. Cualquier cobro por el tempo extra ó daños seran cobrados al dueño de el permiso bajo el cargo de el Programa de Recuperacion. Las carpetas de reservacion y las formas pueden ser obtenidas aqui.
Picnic or Grounds (for groups of 50 or more) Dia de Campo y Terrenos (para grupos de 50 ó mas)
Fees: $50.00
Details:
Visitors picnic and play on the grounds. Groups of 50 or more must obtain a special use permit at least two weeks in advance of their requested date. Cost: $50.00 application fee. Education Fee Waivers are available; please contact the Memorial for more information. Download the permit application here.
Detalles:
Visitantes de dia de campo y terrenos de juego. Grupos de 50 ó mas tendran que obtener el Permiso de Uso Especial al menos con dos semanas de anticipacion a la fecha requerida. Costo $50.00 de cobro por aplicacion. La suspension de cobro por educacion es disponible. Por favor comuniquese a el Memorial para mas informacion. Baje la aplicacion de permiso aqui.


Did You Know?

Depending on the time of year you visit Chamizal National Memorial, you may see up to four different species of hummingbirds. These include the Broadtailed (pictured), Rufous, Black-Chinned, and Anna's hummingbirds.